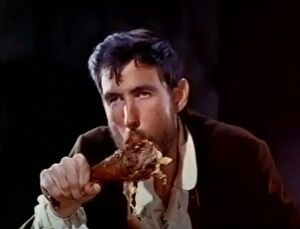 Tom Jones is the 1963 film adaptation of Henry Fielding's novel, winning four Academy Awards including Best Picture and Best Director. Set in the 18th century, it tells of the many adventures (mostly romantic) of handsome rogue Tom. One of the film's best known set pieces has Tom and the lusty Mrs. Waters gazing at each other while devouring a large meal.
References
During "Never Before, Never Again," Kermit and Miss Piggy wear 18th century costumes inspired by Tom Jones.[1] Their romp in open nature recalls a montage between Tom and his love Sophie, while the pair ducking below the trees mirrors an earlier dalliance (with the Tom Jones narrator specifying it was for decorum).
Connections
Sources
↑ The Muppet Movie: An Oral History. July 25, 2019. Quotes from Calista Hendrickson.
See also
Community content is available under
CC-BY-SA
unless otherwise noted.