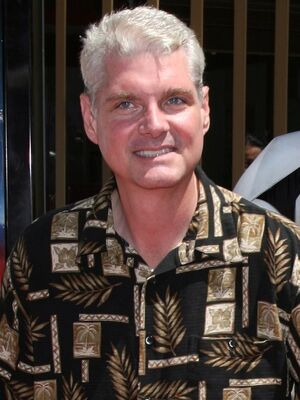 Tom Kane (b. 1962) is an American voice actor who announced the 2013 special Lady Gaga & the Muppets' Holiday Spectacular. Kane introduces the acts and informs Pepe the King Prawn at the show's opening that it is Lady Gaga's holiday special, not "Pepe's Holiday on Shaved Ice Television Spectacular."
Kane has worked extensively as both a character voice actor and an announcer (in movie trailers, commercials, and as the show announcer for several Academy Award ceremonies). He voices Yoda in the Star Wars: Clone Wars film, television series and other related media and video games (as well as the narrator and ancillary roles). He also voiced Yoda, C-3PO, Admiral Ackbar, and other Star Wars characters for several Disney Theme Park attractions and events.
Kane has been heard in such animated series as The Wild Thornberrys (as Darwin), The Powerpuff Girls (Professor Utonium, Him), Foster's Home for Imaginary Friends (Mr. Herriman), Wolverine and the X-Men (Magneto), Spider-Man, Teen Titans, MAD, and Robot Chicken, as well as the DVD feature Scooby-Doo and the Cyber-Chase. He narrated the feature film The Smurfs (with Neil Patrick Harris and Hank Azaria), and as a voice-match actor, he's done sound-alikes for John F. Kennedy in the making-of documentary for Forrest Gump, HAL 9000 in commercials and other media, and Donald Pleasence (as Dr. Loomis) in Halloween H20.
Apart from Star Wars, video game credits include Batman: Arkham Asylum and its sequel (as Quincy Sharp and others), The Curse of Monkey Island and other LucasArts titles, several Marvel Comics games, and The Lord of the Rings: War in the North (Gandalf).
External links
Community content is available under
CC-BY-SA
unless otherwise noted.