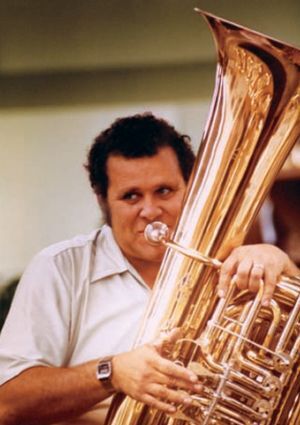 Tommy Johnson (1935-2006) was a tuba player who played for Leroy the Donkey in The Muppet Musicians of Bremen. He also played tuba for the Creature Shop-effects films Cats & Dogs, The Flintstones, and 101 Dalmatians.
Johnson played with a wide range of performers and conductors, including Henry Mancini, Frank Zappa, the Flying Burrito Brothers, Diane Schuur, Jean-Pierre Rampal, Earth Wind & Fire, and Neil Diamond. He played tuba on the majority of Weird Al Yankovic's polka tracks. In 1994, he was featured on The Manhattan Transfer Meets Tubby the Tuba, soloing as the title character.
Johnson was one of the most in-demand tuba players in the film industry, beginning with Al Capone in 1959. His most famous solo was supplying the ominous notes indicating the shark's arrival in Jaws. Other notable film credits include Close Encounters of the Third Kind, The Godfather, Dracula, Beetlejuice, Far From Heaven, The Addams Family, Disney's Tarzan, Toy Story, multiple Star Trek films, The Lion King, and Titanic. TV assignments included Roots, The Simpsons, and Cannon.
External links
Community content is available under
CC-BY-SA
unless otherwise noted.