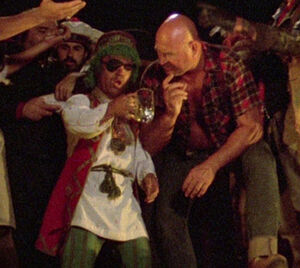 Tommy Madden is an actor who appeared in The Muppet Movie as the one-eyed midget, one of the patrons of the El Sleezo Cafe. In the original script, the character was described as a "green-haired, donkey-eared midget" as part of a running gag, where whenever Fozzie Bear began a joke describing someone, the person would appear from the crowd to object.[1]
In the final film, although Madden sports an eyepatch instead and has normal ears, his hair is still green. His dialogue is dropped, though, so he's glimpsed in the crowd and riding on a gangster's shoulders when the patrons rush out. He can be seen most prominently in the rooftop shot, holding an empty beer mug and sharing befuddlement and dismay over the lack of drinks on the house with the lumberjack and the sailor. Even with his reduced role, and despite being a working actor rather than a celebrity, The Muppet Show Fan Club News Vol. 1, No. 4 included Madden in the list of Hollywood stars appearing in the movie, between Carol Kane and Charles Durning.
Outside of The Muppet Movie, Madden had minor roles in campy, often sex-themed 1970s films such as Linda Lovelace for President, The Amorous Adventures of Don Quixote and Sancho Panza and Rabbit Test (with Billy Crystal) and as one of the rotoscope actors for the hobbits in Ralph Bakshi's The Lord of the Rings. He had more significant roles in Swamp Thing (as the mutated form of a henchman who helps the heroes) and Spaced Invaders (with Gregg Berger and the voices of Bruce Lanoil and Kirk Thatcher).
Madden was more active as a TV character actor, featured prominently in several series' episodes revolving around little person characters, such as The Incredible Hulk (as a midget wrestler who gets Banner into trouble), Laverne & Shirley (as half of the girls' blind dates), The Fall Guy, The Dukes of Hazzard, Starsky & Hutch, Simon & Simon (recurring in four episodes as newsvendor/informant Stretch Mooney), L.A. Law, and Coach, as well as more of the inevitable alien/creature/cherub roles on the 1980s The Twilight Zone, You Wish, and Working.
External links
Sources
↑ Toughpigs "The Road to Hollywood Chapter 4: Slow Night at the El Sleezo. Transcribed excerpts from the June 12, 1978 script draft by Jerry Juhl and Jack Burns.