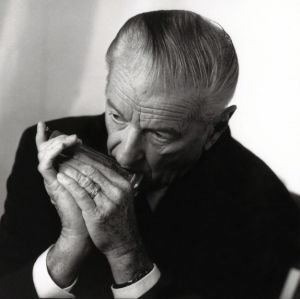 Tommy Morgan has been one of the most active harmonica players in Hollywood film and TV soundtracks since the 1960s. He played the harmonica for Rowlf the Dog in The Muppet Movie. He also backed Bob McGrath on his 1974 album Bob McGrath Sings for All the Boys and Girls (for Disneyland Records).
Morgan's distinctive harmonica was heard on countless TV themes, from the rustic 1960s comedies The Beverly Hillbillies and Petticoat Junction to the opening rhythms of Sanford and Son, the harmonica solo in the middle of The Rockford Files, The Dukes of Hazzard, Maverick, Perfect Strangers, and others. He also appeared on The Ed Sullivan Show and The Jimmy Dean Show. He's been heard in episode scores for The Twilight Zone, Buffy the Vampire Slayer (recording his own composition for a street busker), all of the Roots miniseries and specials, Family Guy, and The Simpsons.
In film soundtracks, Morgan was heard throughout Cool Hand Luke (with Paul Newman), played harmonica for Billy Crystal in City Slickers, handled the campfire scene in Blazing Saddles, and lent his skills to My Fair Lady, Back to the Future III, Rocky II, Dances with Wolves, and Willie Dynamite (starring Roscoe Orman. Recently heard on several Pixar soundtracks (including Ratatouille and Cars), Morgan played harmonica (his own short composition) for Hamm in Toy Story 3. As a session musician in records since the 1960s, Morgan backed Elvis Presley, the Beach Boys, Linda Ronstadt, Ray Charles, Dinah Shore, and the Carpenters.