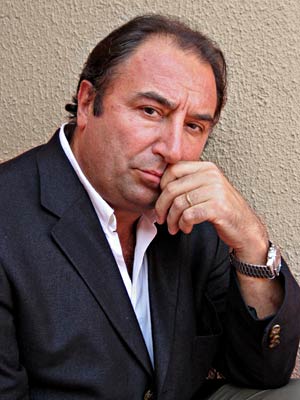 Toni Sevilla (b. 1949) is a Spanish actor who played Desi in the Barrio Sésamo, the Spanish version of Sesame Street from 1983 to 1987. He has since specialized in tough policeman roles. Born in Barcelona, Sevilla is fluent in the native language of the region, Catalan, and often dubs films into the language. In 2003, he was heard in the Catalan dub of The Adventures of Elmo in Grouchland, re-voicing Cookie Monster for TV Catalunya.
Sevilla made his television debut with Barrio Sésamo when he was 34 years old. He continued with the role until 1987, when the series was cancelled. Though his screen career was limited in the subsequent years, Sevilla reappeared in the 1997 Catalan production Primats. Since then, he began working more frequently, first in TV movies (Pirata, 1999) and then in mainstream productions, including a small role in the comedy No respires: El amor está en el aire, with Leonor Watling, and a starring role in Jaume Balagueró's The Nameless (both 1999). He also appeared as a guest in prestigious Spanish TV series Compañeros and El Comisario.
Sevilla redirected his career towards TV, where he could find work more easily. He appeared in Antonio Mercero's horror production La Habitación Blanca (2000), and then became the main star, alongside Adolfo Fernández, of another cop thriller, TV series Policías, en el corazón de la calle, from 2000 until 2003.
In 2003, after ending his run on Policías as Mateo Luna, he began working on the similarly action-oriented series, El Cor de la ciutat, for Catalonian TV. He remains on the series today, playing Paco Pardo Barceló. However, he has found time for other projects, including a role in Carles Vila's TV movie Falsa culpable, again playing a cop, and a recurring role in the 12th season of the series 7 vidas.
As a recognizable actor, especially in Catalonia, Sevilla has appeared as himself in TV more than a few times from 2004 to current day. He has also acted in mainstream movies, such as Rafa Russo's Amor en defensa propia (2005) and Ferran Llagostera's TV production Chapapote... o no. As a voice actor, Sevilla has been heard in a few Castilian Spanish dubs, notably as the character Barty Crouch in Harry Potter and the Goblet of Fire, but has been more prolific in Catalan, dubbing Mandy Patinkin in The Princess Bride, Danny DeVito in Mars Attacks! and other movies, Stuart Pankin in Mannequin: On the Move, and Steve Martin in Looney Tunes: Back in Action.
External Links