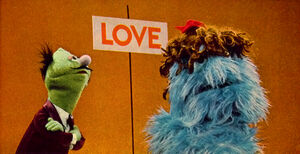 Tony is a green Anything Muppet who often appears in the company of large, furry monsters (whether he wants to be or not). He participated in several Sesame Street sketches and featured by name in the 1973 character style guide. His name is also mentioned by Gordon in Episode 0080 and in segment scripts featuring the character.[1]
He debuted in "Lulu's Back in Town" with Lulu (played by Beautiful Day Monster) (First: Episode 0030). The duo also appeared that same season in a cover of "Windy." (First: Episode 0074) Tony continued to appear in new sketches from time to time through Season 10.
The puppet was slightly adjusted after Season 1; his pink nose was replaced with a light blue one and he was applied a pair of eyebrows.
The same puppet used for Tony was also seen in a sketch as the clerk in a clothing store (performed instead by Jerry Nelson) assisting a woman looking for a blue, furry coat (who ends up buying Cookie Monster when Tony doesn't have anything in stock to match her tastes). (First: Episode 0145)
Segment appearances
Picture
Title / First Appearance
Description

"Lulu's Back in Town"

---

Episode 0030
Tony sings "Lulu's Back in Town" as he awaits for Lulu (played by Beautiful Day Monster) to arrive.

"Windy"

---

Episode 0074
Tony sings "Windy" with the titular female (again portrayed by Beautiful Day Monster).

Love

---

Episode 0197
A large female monster spells the word LOVE and gives Tony an unwarranted kiss.

"Help!"

---

Episode 0135
Tony calls Lulu for a date. He begins to sing "Help!" when a large female monster (Herry Monster) appears at his door and pursues him around his apartment.

Away From

---

Episode 0278
Salesman Harvey Kneeslapper teaches Tony how to get away from various dangers like angry monsters and crowds of trampling people.

Near and Far

---

Episode 0453
Cookie Monster (in drag) tries to snuggle up near Tony, who feels much more comfortable when he's far away from his potential date.

"I'm Between"

---

Episode 1233
Tony sings about being stuck between two monsters.
Book appearances
Sources