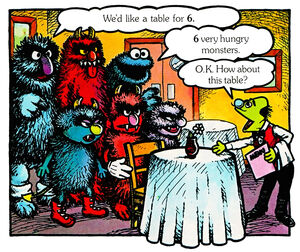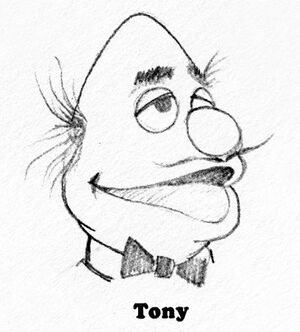 Tony is a green Anything Muppet who often appears in the company of large, furry monsters (whether he wants to be or not). He participated in several Sesame Street sketches and featured by name in the 1973 character style guide.
He debuted in "Lulu's Back in Town" (first seen in Episode 0030; Gordon refers to him by name in his introduction in Episode 0080) with Lulu (played by Beautiful Day Monster). The duo also appeared in a cover of "Windy," first seen in Episode 0074.
Another sketch opens with him talking on the telephone to Lulu, asking her to a dance. When she can't make it, he goes on to sing the Beatles' song "Help!" and Herry shows up in a wig to be his date. He was also seen in a sketch as the clerk in a clothing store assisting a woman looking for a blue, furry coat (who ends up buying Cookie Monster when Tony doesn't have anything in stock to match her tastes). (First: Episode 0145)
Performers
Book appearances
Community content is available under
CC-BY-SA
unless otherwise noted.