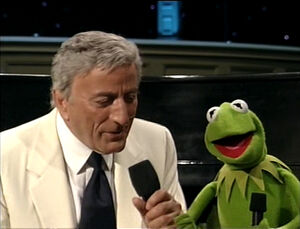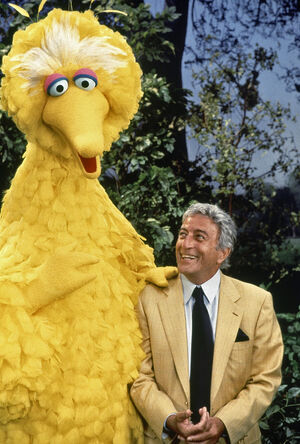 Tony Bennett (b. 1926) is a celebrated jazz interpreter of traditional pop songs. He was discovered in 1950 by Bob Hope, after Pearl Bailey had asked him to open for her show. His recordings of "Because of You," "Cold, Cold Heart" and "Rags to Riches" reached #1 on the Billboard charts during the early 1950s, and he also became well known for "I Left My Heart in San Francisco."
Bennett taped an appearance for Sesame Street in 1995, singing a remake of "Little Things" with Lexine. The recording was later released on the Songs from the Street anniversary boxed set.
In 1996, he guest starred on Muppets Tonight in episode 106. His duet with Kermit the Frog singing "Firefly" led to Kermit's appearance on Bennett's 1998 album, The Playground.
For Sesame Street's 29th season, he sang a parody of "Fly Me to the Moon" called "Slimey to the Moon," to commemorate Slimey the Worm's trip to the Moon. The same year, he could be seen in archive footage used in Elmopalooza as one of many celebrity guests arriving at Radio City Music Hall in New York City.
In 2002, he performed "If I Ruled the World" at the Party at the Palace commemorating the Golden Jubilee for Queen Elizabeth II alongside Kermit the Frog.
In 2003, he appeared at the first Sesame Workshop Benefit, performing with Elmo and Bob.
In 2014, Bennett cameoed during "We're Doing a Sequel" in Muppets Most Wanted.
In 2016, Bennett and Miss Piggy sang "Santa Claus Is Coming to Town" live during the Macy's Thanksgiving Day Parade. At the end of the song, the float lurched forward unexpectedly, causing Bennett to stumble. Miss Piggy (or Piggy's performer) helped Bennett to keep his balance, resulting in a New York Post headline: "Miss Piggy catches Tony Bennett's fall on parade float". "He may have left his heart in San Francisco — but Tony Bennett owes his life to Miss Piggy," the article said.[1]
The television special, Tony Bennett Celebrates 90: The Best Is Yet to Come featured a guest appearance by Miss Piggy alongside Don Rickles and Regis Philbin.
References
Gallery
Sources
External links