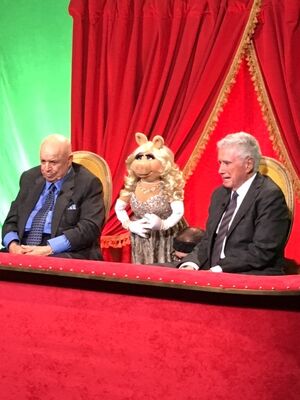 Tony Bennett Celebrates 90: The Best Is Yet to Come was a television special that aired on NBC on December 20, 2016. The 90th birthday celebration of Tony Bennett was hosted by Alec Baldwin and featured performances by many celebrities including Andrea Bocelli, Michael Buble, Bob Dylan, Lady Gaga, Madonna, Billy Joel, Elton John, Diana Krall, k.d. lang, and Stevie Wonder.
Miss Piggy made a cameo appearance alongside Regis Philbin and Don Rickles in a spoof of Statler and Waldorf's Box.
Other celebrities who made appearances included Garth Brooks, Celine Dion, Dustin Hoffman, Queen Latifah, Robert De Niro, Wynton Marsalis, Paul McCartney, Keith Richards, Homer Simpson, Carrie Underwood, Bruce Willis, Oprah Winfrey and Trisha Yearwood.