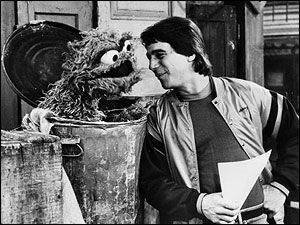 Tony Danza (b. 1951) starred on the sitcoms Taxi and Who's The Boss, as well as his own talk show, The Tony Danza Show, on which Elmo, Kermit, and Miss Piggy were regular guests.
Danza also chatted with Miss Piggy and Gonzo in the 1990 television special Disneyland's 35th Anniversary Celebration.
He has appeared on Sesame Street with Oscar the Grouch (First: Episode 2144), talking about jumping rope (First: Episode 2162), and playing tennis without a ball with Big Bird in a sketch narrated by Kevin Clash (First: Episode 2170).
External links