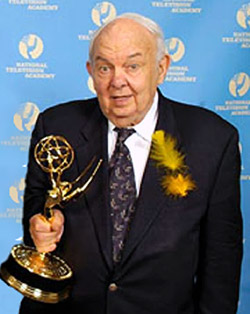 Tony Geiss (November 16, 1924 - January 21, 2011) was a staff writer and songwriter for Sesame Street and related productions, often teamed with Judy Freudberg. Geiss conceptualized the Honkers (based on his own childhood habit of honking his nose)[1] and Abby Cadabby.[2]
Geiss' early TV career was spent in London scripting The David Frost Show and worked on one entry in the Experiment in Television series for NBC. He first joined Children's Television Workshop as a writer on the health series Feelin' Good. He also scripted television specials and revues for the likes of Dick Cavett and Bill Cosby. In the 1980s, after scripting Follow That Bird as his cinematic debut, Geiss and Freudberg co-wrote the Don Bluth animated features An American Tail and The Land Before Time. He was also credited as head writer for several Sesame Street home videos.
Geiss' father Anthony Geiss was a painter and an animator, while mother Marjorie Thirer was a press agent. Geiss grew up in Greenwich Village, spending two years as a radar technician for the US Navy, before attending Cornell University from 1943 to 1946. He began acting in theatre productions in his freshman year, and met his wife Phyllis Eisen on campus.
Composer Credits
Writing Credits
Books
Interviews
The Academy of Television Arts and Sciences Foundation interviewed Geiss in 2004 for the Archive of American Television. The hour and a half interview was posted on YouTube in 2008.
See also
Sources
↑

Children's Television Workshop. Biographical Sketches. 1983

↑ Susan Dominus, "A Girly-Girl Joins the 'Sesame' Boys", The New York Times, 6 August 2006.
External links