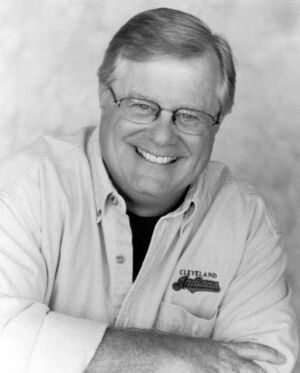 Tony Pope (1947-2004) was a voice actor who was heard in animation, toys, and Disney read-alongs. In the latter capacity, he voiced the Chamberlain in the read-along for The Dark Crystal.[1]
Pope was part of Disney's stock company for records and audio cassettes from the seventies to the nineties. He often voiced Goofy, including the 1979 album Mickey Mouse Disco and reprised it for the 1987 animated special Sport Goofy in Soccermania and for Who Framed Roger Rabbit (also voicing the Big Bad Wolf). He voiced Geppetto in Pinocchio read-alongs as well as the House of Mouse TV series and Kingdom Hearts video game. Other roles in Disney-produced audio included the Duke in Cinderella, Bert and Mr. Banks in Mary Poppins, adult Bambi in Bambi, Timothy Mouse in Dumbo, Long John Silver and Captain Smollett in Treasure Island, Scotty and Bones in Star Trek movie read-alongs, Eddie Valentine in The Rocketeer, and Pat Patton and the Brow in Dick Tracy.
Pope was also heard in the Worlds of Wonder Teddy Ruxpin line, as Newton Gimmick and L.B, and was the original voice of the toy Furby. Other toy assignments included Rich Uncle Pennybags for a handheld Monopoly and a chef for a Fisher-Price talking kitchen. In animation, he voiced Wreck-Gar and others on Transformers, Sgt. Garcia on the 1997 Zorro animated series, God in It's a Wonderful Tiny Toons Christmas Special, the Burmese emissary in the animated The King and I, and parts on The Jetsons, Scooby-Doo, and Superman: The Animated Series. He was busy in anime, including Hello Kitty's Paradise (Papa Kitty), Metropolis (Shunsaku Ban), Gatchaman, and more. He did live-action dubbing and lent his voice to off-screen roles in Back to the Future (radio announcer at the beginning), The Facts of Life (as a talking computer in "Dear Apple), and episodes of Blossom and Everybody Loves Raymond.
Sources
↑

Tony Pope's resume. Obtained via correspondence in 2001
External links