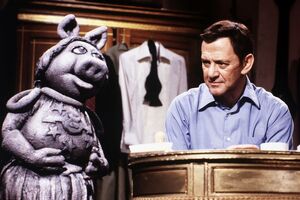 Tony Randall (b. Arthur Leonard Rosenberg, 1920-2004) was an acclaimed actor of stage and screen, best known to television audiences as Felix Unger on The Odd Couple (for which he was awarded an Emmy).
He guest starred on The Muppet Show episode 513 and contributed a "Favorite Pear Dessert" recipe for Miss Piggy's 1996 cookbook, In the Kitchen with Miss Piggy.
A favorite on the talk show circuit, Randall holds the distinction of having the most appearances on The Tonight Show with Johnny Carson (105 times), was a favorite guest of David Letterman, and made multiple appearances on shows such as The Merv Griffin Show and The Dick Cavett Show.
Randall's early roles included radio (as Englishman Reggie on I Love a Mystery, 1949-1952) and a regular part on the sitcom Mister Peepers (1952-1955). On Broadway, Randall appeared in multiple productions, including Inherit the Wind (originating the role of smug columnist E. K. Hornbeck) and The Sunshine Boys and toured off-Broadway in The Odd Couple.
Randall's television guest spots include appearances on Cher, Happy Days, The Brady Bunch Hour, Saturday Night Live, Night of 100 Stars III, The Carol Burnett Show, and The Alfred Hitchcock Hour. In film, he co-starred in three romantic comedies with Doris Day and Rock Hudson and played the title roles in Will Success Spoil Rock Hunter? and The Seven Faces of Dr. Lao.
References
Tony Randall's portrait was hung on the walls of Sardi's Restaurant, and can be briefly glimpsed along with many others in the Sardi's scenes in The Muppets Take Manhattan.
External links
Community content is available under
CC-BY-SA
unless otherwise noted.