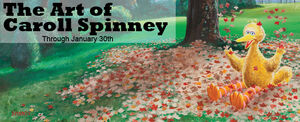 ToonSeum is a museum of cartoon art in Pittsburgh, Pennsylvania.
Comic Con
In 2010, Toonseum's booth at NY Comic Con hosted autograph signings on Saturday, October 9 with Caroll Spinney, Noel MacNeal, Jim Martin, Judy Sladky, and David Newell (Mr. McFeely from Mister Rogers' Neighborhood). Events included a talk, "Children's TV Legends: A Celebration of Childhood Memories".
Exhibits
2010
"The Art of Caroll Spinney" ran from November 6th to January 30th, 2010.
"

Spinney brings his beloved characters into new realms through elaborate fantasy paintings, greeting cards and book illustrations. The exhibit will offer insight into the life of Spinney and his work -- from his early comics as a child and fanciful car designs as a teen, to his comic strip work in the Air Force... Throughout his career, Spinney designed cast T-shirts and greeting cards, many of which will be on display during this exhibit. In the 1990s, Spinney turned his talents to painting and produced several fantasy works featuring Big Bird and other Sesame Street characters.

"
ToonSeum's annual fundraiser "Ka-Blam! The Return of Saturday Mornings", on November 6, included Spinney as guest of honour. He also made two drawing demo videos for the museum's YouTube page.
2012
"Animating Haring!", featuring the animation of Bill Davis and animated cels and drawings for his Keith Haring-inspired segments "Exit", "1-10", and "What Comes Next?"
Permanent collection
Their "Drawing Board of Fame" includes a sketch by Caroll Spinney, and sketches by various animators who have worked on Sesame Street segments.
External links
Community content is available under
CC-BY-SA
unless otherwise noted.