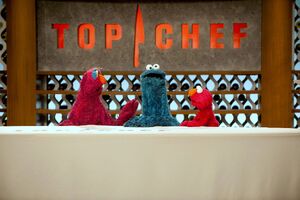 Top Chef is a cooking competition reality program, where chefs compete against each other in culinary challenges. They are judged by a panel of professional chefs and other notables from the food and wine industry with one or more contestants eliminated in each episode. The program airs on the cable television network Bravo. The first season was hosted by Katie Lee Joel and has been hosted by Padma Lakshmi since the second season.
Appearances
The tenth episode of season 8, aired on February 16, 2011, featured Elmo, Telly, and Cookie Monster from Sesame Street as judges of a cookie-cooking competition. While they were supposed to be the "judges", it was felt that a real cookie wouldn't be safe for a puppet to handle due to the oil and grease, so the puppeteers themselves got to taste the cookies and come up with a winner.
References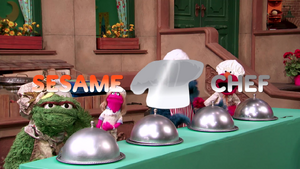 Episode 4816 of Sesame Street features a spoof of the series, entitled "Sesame Chef." The cooking competition, hosted by Top Chef's Padma Lakshimi, pits Elmo, Cookie Monster, Prairie Dawn and Oscar the Grouch against each other in coming up with a unique dish using cheese.
Connections
Previous guests on the program have included Buzz Aldrin, Jimmy Fallon, Natalie Portman, Wolfgang Puck, Martha Stewart, Emeril Lagasse, Branford Marsalis, Meredith Vieira, Kathie Lee Gifford, Natalie Morales, and Art Smith.
See also
External links