URL
toughpigs.com
Active
August 13, 2001 - present
Type
unofficial fansite
Creator
Danny Horn
Tough Pigs is a Muppet fan website created on August 13, 2001. Subtitled "Muppet Fans Who Grew Up," the site is a collection of essays, reviews and news blurbs written in a tongue-in-cheek style.
The site was created by Danny Horn, who published MuppetZine for five years in the mid-90s and is now one of Muppet Wiki's chief administrators.
From 2001 through 2005, Horn wrote articles and reviews for the site. In late 2005, Horn co-founded Muppet Wiki, and took a hiatus from Tough Pigs.
The website returned in January 2007, reformatted as a blog, written by Joe Hennes and Ryan Roe.
In 2010, the site partnered with The MuppetCast to create The Muppet Madness Tournament. In 2011, the site partnered with The MuppetCast and The Muppet Mindset to launch the short-lived MuppetFans.com. On March 17, 2021, the site merged with The Muppet Mindset.
Walter is among the site's readers,[1] as is Kermit the Frog.[2]
Podcasts
Appearances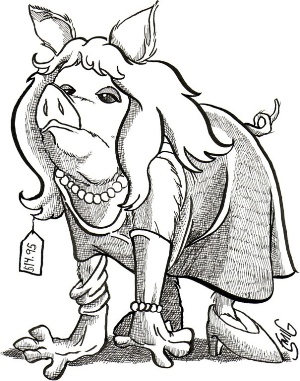 February 18, 2015 — The site produces "The Snuffy Awards" with a YouTube awards ceremony featuring video appearances by Tyler Bunch, Leslie Carrara-Rudolph, Annie Colbert, FrogFan76, Eric Jacobson, Brian Jay Jones, Peter Linz, Joey Mazzarino, Martin P. Robinson, John Tartaglia, Kirk Thatcher, Matt Vogel, and Constantine. [4]
September 19, 2016 — The site produces "The Fozzie Awards" with appearances by Kermit the Frog, Miss Piggy, Paul Williams, Peter Linz, Eric Jacobson, Julianne Buescher, Matt Vogel, Tyler Bunch, Kathryn Mullen, Katie Cook, Kirk Thatcher, Noel MacNeal, Danny Horn, The Muppet Mindset, FrogFan76, Mike Quinn, John Tartaglia, and Leslie Carrara-Rudolph. [5]
February 18, 2020 - Joe Hennes and Gonger make a PB&J sandwich. (YouTube)
October 7, 2021 - Jarrod Fairclough interviews Pepe and Gonzo about Muppets Haunted Mansion. [8]
December 18, 2021 - Kermit the Frog appears in a special Christmas video message for Tough Pigs' social media outlets. [9]
References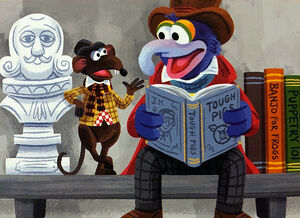 Sources
External links