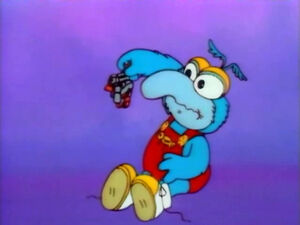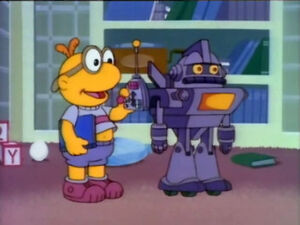 Transformers are a line of toys produced by Hasbro and Takara Tomy beginning in 1984, a year after Tonka's Go-Bots debuted. The franchise has expanded in cartoons, comics, movies, and various other media.
References
The Fall 1985 issue of Muppet Magazine features a comic called "The Mup-Bots Transform" parodying both Transformers and Go-Bots.
Baby Scooter's Trans-Go JoBot from the Muppet Babies episode "Muppets in Toyland" takes its name from an amalgamation of Transformers and Go-Bots. The episode features an epilogue in which Baby Gonzo expresses frustration with "these toys that change from one thing to another" just before Baby Piggy transforms him into a car.
In Episode 4261 of Sesame Street Rosita, Elmo, and Telly portray the "Shape-O-Bots" and can transform into any shape (or try to). Before they transform they all sing a parody of the Transformers theme song. Caricatures of Shia LaBeouf and Megan Fox also make appearances in reference to the Transformers movies from the 2000s.
Connections