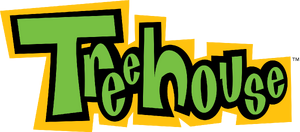 Treehouse TV is the Canadian broadcaster of Bear in the Big Blue House, Elmo's World, Global Grover, and Play with Me Sesame. On 6 September 2008, Sesame Street debuted in its new 9 am timeslot on the station; the programs are also available on the "Treehouse Premium Subscription Video-On-Demand" service.[1] They had rights to the shows in Canada, until the 2012-2013 season.[2]
Before it aired the last three, it showed Open Sesame.
A Canadian Press article about the channel's launch said: "The treehouse environment, for example," a recurring interstitial between programs, "operates much like that city block on Sesame Street, as the anchor or umbrella locale from which the various program elements are spun off."[3]
The channel is a spin-off of YTV, of which had aired repeats of The Muppet Show and other Muppet productions for many years. In Canada, YTV aired The Jim Henson Hour in its first run.[4]
Sources
Community content is available under
CC-BY-SA
unless otherwise noted.