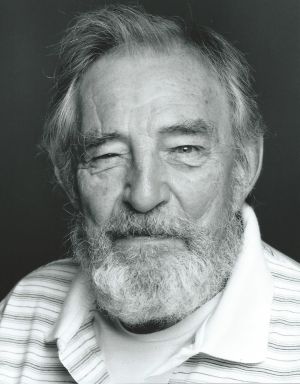 Trevor Martin (1930-2017) was a British actor who dubbed Atlas in The Storyteller: Greek Myths episode "Perseus and the Gorgon."
Martin began his career on radio in 1950, as a member of the BBC Drama Repertory Company. He was heard regularly in many one-shot plays, often classical or historical material (from Shakespeare and the Greeks to Moliere), adaptations of novels, and in many roles on the early English drama anthology The First Stage (1957). He was also heard as Battling Bilson in a Wodehouse Ukridge story, in one installment of the scifi serial The Day of the Triffids, on the soap opera Mrs. Dale's Diary, and in serial adaptations of The Scarlet Pimpernel (as the villainous Heron of the Committee for Public Safety), Beau Geste (as legionnaire Glock), Dr. Bradley Remembers (starring in the title role), and others. He remained an active radio player through the 1970s and 80s (as Jean Valjean in a 1976 Les Misérables and the Monster in a 1985 Frankenstein) and, with a slight decrease in frequency, as late as 2011.
Martin spent a stint with the Royal Shakespeare Company in the 1960s, and then again from the 1980s through the 2000s, and was also a National Theatre player. On television, he appeared on Doctor Who as the second Time Lord in the serial "War Games" (1969), and in 1974, he portrayed the Doctor himself in the stage play Seven Keys to Doomsday. He was later heard in audio Doctor Who productions, for both the BBC and Big Finish.
Martin recurred on Coronation Street in 1984 as Arthur Whittaker. He also appeared on Scotland Yard, the 1964-1968 Sherlock Holmes (as Duncan Ross in "The Red-Headed League"), Jackanory (as the storyteller for one week in 1967), Z Cars, Inspector Morse, and more recently Whitechapel and Call the Midwife. Film credits include Laurence Olivier's 1965 Othello (reprising his stage role as a Cypriot soldier), Absolution (with Billy Connolly), The House of Mirth (with Dan Aykroyd), and Babel. A busy voice-over actor, he dubbed parts in the Chinese series The Water Margin and narrated the video game Heavenly Sword.
External links
Community content is available under
CC-BY-SA
unless otherwise noted.