Release Date
August 29, 2017
Produced by
Warner Home Video
Format
DVD
Discs
1
Region
1
ASIN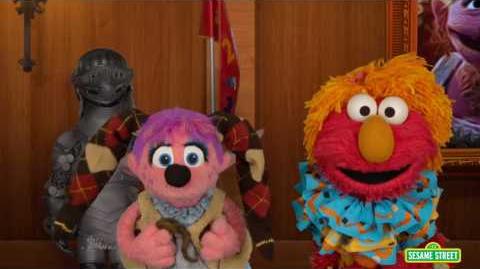 Trick or Treat on Sesame Street is a Sesame Street Halloween-themed DVD released on August 29, 2017.
In the video, Elmo and Abby go trick-or-treating at Count von Count's castle. There, they count decorations and dance "The Batty Bat," while also trying to catch a runaway pumpkin, who has stolen Elmo's hat.
Bonus features include a full episode, "The Sesame Dress-Up Club," and a digital storybook, Which Witch Is Which?
The new footage for the DVD was written by Molly Boylan and directed by Ken Diego.
Segments
Street Story: Halloween
Animation: A spider sings about finding the right costume for Halloween. (a Sesame Studios short)
Cartoon: "Pumpkin Face"
Film: A girl describes her Halloween festivities.
Cartoon: Cowboy hat / boot pattern
Street Story: Dress Up
Film: H is for Halloween
Cartoon: Counting 13 bats
Community content is available under
CC-BY-SA
unless otherwise noted.