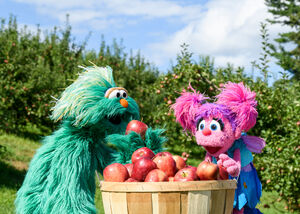 "Trip to Harvest Moon Farm and Orchard" is a Sesame Street story arc told over the course of five episodes in Season 52 (2022).
The episodes were shot on location at the Harvest Moon Farm and Orchard in North Salem, New York over the course of six days in August of 2020.[1] The site was chosen by location scout Marc Auerbach as an alternative to online video conferencing content created during the COVID-19 pandemic.[2] Matt Vogel commented that the location allowed the crew to work in an environment utilizing a safety protocol team hired during the pandemic.[3]
Characters include Elmo, Rosita, Ernie, Bert, Oscar the Grouch, Abby Cadabby, Grover, Cookie Monster, Gladys the Cow, and Big Bird, as well as Harvest staffer Todd Stevens who appears as a farmer.[1]
Episodes
Picture
Description

Episode 5224

---

Farmer Todd takes Elmo and Rosita on a tour of his farm, showcasing all the different animals and plants. Meanwhile, Ernie tries to get Bert, who would rather do nothing but go home, excited about the farm.

Episode 5225

---

While Elmo, Rosita, and Grover help him watch the goats, Farmer Todd realizes his goat, Kudzu, is missing. The four then look for clues around the farm to find the missing animal.

Episode 5226

---

Elmo, Abby, and Farmer Todd have baked a sweet and delicious pie. While they wait for it to cool off, a mysterious individual robs them of their creation. It's now up to detective Elmo and Abby to solve this mystery.

Episode 5227

---

Elmo and Abby are riding on a wagon when Farmer Todd calls for them to feed the animals. They try to feed the cows, but the tractor they need to transport all the hay is not working. The two then brainstorm how they could use their wagon to solve the problem.

Episode 5228

---

Big Bird's chicken friend Lottie is struggling to lay an egg in the uncomfortable nesting box, so with Grover and Farmer Todd, Big Bird tries to make the box a more cozy environment to lay eggs in.
Sources