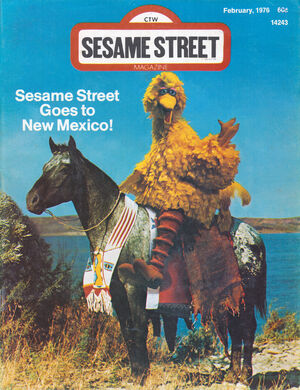 "Trip to New Mexico" is a Sesame Street story arc that took place over several episodes in Season 7 (1975).
The five-part narrative marks the first time the show would film on location for a multi-episode theme, a feat lauded by the press as a device that worked beautifully.[1] The production traveled to New Mexico's Rio Grande Valley in the spring of 1975[2] to film with the Roma household, a real-life Chicano family native to the area. Jon Stone noted, "By presenting children in the settings where they live, we add realism and dramatic impact to our goal of teaching about different culture."[1]
On-screen, the story involves Luis visiting his home town to help his grandparents build a new house. He invites his Sesame Street neighbors to come along including Big Bird, Oscar the Grouch, Maria, Gordon, Bob. While there, they also meet up with Buffy — who had just been introduced a few episodes prior — serving as a guide on a trip to a local native pueblo.
The episodes were featured in the February 1976 issue of Sesame Street Magazine presenting Big Bird on the cover, riding a horse. The magazine included an illustrated postcard sent from Big Bird (inspected by Sherlock Hemlock) in which he writes about befriending a roadrunner. It also includes a photo diary recapping some of the events from Big Bird's perspective.
The entire story arc was repeated as Episodes 1160 through 1165 in Season 9.
Episodes
Picture
Description

Episode 0810

---

When Luis gets a call from his family to help out on the ranch where he grew up, he invites the Count to come along. The Count declines, but Big Bird accepts the invitation after learning that they'll be going to New Mexico. The Count takes it upon himself to tally the people who will be joining Luis on the trip: Mr. Hooper, Susan, and David would like to go, but they can't take time off from work and classes. Gordon, Bob, and Maria decide to join the group, but Oscar wants nothing to do with the trip, and hopes that everyone stays in New Mexico once they get there. With everyone's baggage piled up on the sidewalk, Biff and Sully accidentally load Oscar's trash can onto the truck.

Episode 0811

---

Arriving at the ranch via pickup truck, Luis introduces his city friends to his family. Gordon learns how to make bread in a horno, Oscar is presented with some items that appear to be trash until he learns from Mrs. Romo that they can all be reused, and Big Bird befriends a flock of chickens after working up the courage to approach them. Luis discusses what's involved in building the adobe he's there to help with, explaining to Oscar that the bricks are made with mud.

Episode 0812

---

Accustomed to sleeping with the loud noises in the city, Oscar wakes up deprived of rest due to all the quiet on the ranch. Looking for another spot to doze off, he attempts to take up space in a clay hut before learning that he was trying to sleep in the oven. He eventually finds some solace in a nearby garbage compost while Maria fields long-distance phone calls from the Count, and Gordon and Bob contemplate riding horses to a neighbor so they can pick up some nails.

Episode 0813

---

Everyone is beginning to miss their friends back on Sesame Street: Maria misses David, Gordon writes a postcard to Susan, and Big Bird sings about Mr. Snuffleupagus. Big Bird manages a phone call to Snuffy via Hooper's Store after playing cowboy (and forgetting to hitch the horses up to his wagon), and Luis takes a walk down memory lane, singing a nostalgic song about his old childhood stomping grounds. Gordon learns how to milk a cow, and Oscar swaggers his grouch bona fides into eating a chili pepper with explosive results.

Episode 0814

---

Buffy visits the ranch and offers to take Maria and Big Bird to a nearby pueblo, explained as a town where Indians live. Big Bird befriends the local kids, playing tag and follow-the-leader, and learns that Indians don't always wear lots of feathers the way he expected them to; they oftentimes wear clothes like everyone else, reserving their ornamental wear for special occasions. Buffy sings songs about being an Indian, and exposes Maria and Big Bird to several customs observed by her people.

Episode 0815

---

After several days of playing on the ranch, Big Bird begins to learn about all the work that takes place on the property. He samples the chicken feed, acquaints himself with horse protocol, and observes mud bricks being made. Meanwhile, Oscar feeds slop to the pigs, Bob fixes a flat tire on the truck, and work on the adobe wraps up. Luis bids an emotional farewell to his family as everyone loads up on the truck for their return trip to Sesame Street.