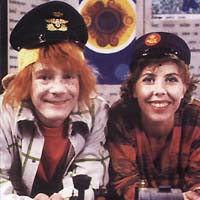 Troells Toya (b.1962), full name Troells Walther Toya, is a Danish voice actor who dubbed Treelo on Bjørnen i det Blå Hus, the Danish version of Bear in the Big Blue House. He also voiced Elmo and others in Elmers Verden, Sesam, luk dig op, Elmo i Surmuleland and Glædelig Jul, Elmer. He voiced Animal and various others in Muppets Fra Rummet.
Walther graduated from the International School of Performing Arts in Göteborg, Sweden in 1988. He has since appeared in Danish theater, movies and television. For seven years, he played the role of Ib in the series Lågen i Bogen, shown on TV2, and traveled around the country doing live appearances with his co-star Karin Jagd. He has dubbed characters and directed voice actors for hundreds of cartoons; including Den grimme ælling og mig, Bunnytown, Grim and Evil, Angelina Ballerina , The jungle book - Mowgli's story and Mr. Magorium's Wonder Emporium. He has also composed music for various bands, the stage, and television productions.
External links
Community content is available under
CC-BY-SA
unless otherwise noted.