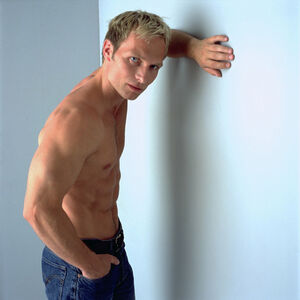 Trond Teigen (born 24 December 1964) voiced Pop and worked as the dubbing director on Bjørnen i det Store Blå Huset, the Norwegian dub of Bear in the Big Blue House.
Trond made his theater debut in The Treasure Island performed on Chateau Neuf (The Norwegian Students' Society building). Since then he has appeared in plays such as Hello Dolly, West Side Story as Tony, Rocky Horror Show as Rocky and Sweeney Todd as Anthony Hope.
Besides doing voice work he also works as a dubbing director. His dubbing credits include Disney's Aladdin, The return of Jafar and Aladdin King of Thieves as Aladdin. The Tramp in Lady and the Tramp 2, Spy Kids and The Prince of Egypt. Dubbing director credits include Jimmy Neutron and Pokémon.
In 2005 he released his first solo album Distant Shores
External links