PERFORMER
various
DEBUT
1976
Trumpet Girl is the description used in scripts of The Muppet Show for the female trumpet player in the Muppet Orchestra.[1] She was named for the first time on the set of The Muppets by actress Rashida Jones who puppeteered the character in group shots, "I named her Dolores. They were cool with that."[2]
On The Muppet Show, she played the trumpet in the orchestra from the first through the fourth seasons. In the show's fifth season, because of the addition of trumpeter Lips to the band, she took up the trombone, which she first played in episode 415. In season five, her eyes were shown open for the first time. She had a brief line in episode 123, where she was performed by Eren Ozker.
The Whatnot puppet was also used in utility functions, often seen as a chorus girl and as an unnamed dancer in "At the Dance" sketches during the first season.
In The Muppets, she returned to the orchestra for the first time since The Muppet Show playing the clarinet. She's primarily seen in the band's uniform purple tuxedo until the "Life's a Happy Song" finale, where she's wearing a houndstooth coat.
Gallery
Filmography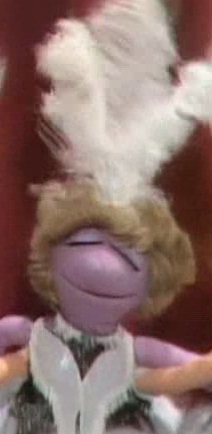 Book appearances
Sources