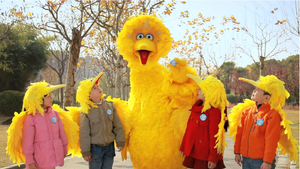 Turn Off the Tap is an environmental campaign by Sesame Workshop in China in December 2012.
In a 30-second advertisement, Big Bird teaches his Birdketeers to turn off the faucet when you're not using it. The spot features a cameo by the Zhima Jie: Da Niao Kan Shijie character Lily.
A Big Bird walk around appeared at the Baijiazhuang Primary School to promote the campaign.