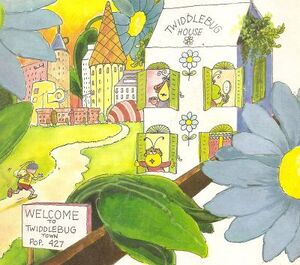 Twiddlebug Town is a name shared by at least two Twiddlebug communities. It first surfaced in the book Twiddlebugs at Work. This town is located in Ernie's window box, although the usual family of Twiddlebugs (Thomas, Tessie, Tina, and Timmy) appear to be conspicuously absent.
The town population, according to the sign, is 427. Newspapers, napkins, photographs, and book pages are popular business roofing materials, although home owners tend to prefer playing cards. Local businesses include an office building (simply labeled "Office Building") and the Twiddlebug Toys factory, which manufactures soccer-style balls from cottom wrapped in polka dotted paper. Food needs are taken care of by the Twiddlebug Bakery and At the Sign of the Spool Restaurant.
Fire Engine Co. #1 takes care of tiny conflagrations, events which are covered by the Twiddle Times. For any multicolored insects in need of health care, the town boasts a hospital (with impressive pill bottle elevator) and an Eye, Ear and Wing clinic. Twiddle World Airlines offers flights to other Twiddlebug communities (which seemingly exist in most windowboxes and include an exotic land surrounded by Japanese cherry trees). Written communications and packages are delivered by the Twiddlebug Mail, and the General Store takes care of any remaining needs (such stocking items from the aforementioned Twiddlebug balls to leaves rolled up as cabbages).
The other Twiddlebug Town is located in Elmo's window box, just outside his bedroom, as seen in the 1989 book When Oscar Was a Little Grouch. Twiddle citizens live there under the benevolent rule of Mayor Thaddeus Twiddlebug.