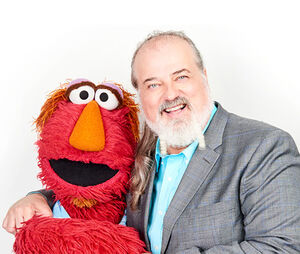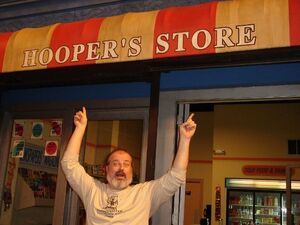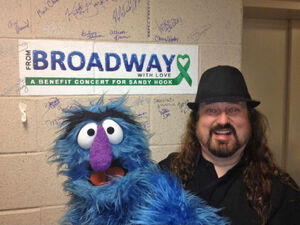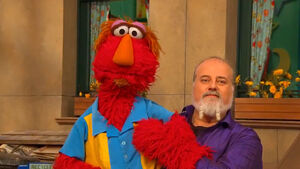 Tyler Bunch (b. February 10, 1970) has worked as a Muppet performer since joining the cast of Sesame Street in 1993.
Initially hired as an occasional background puppeteer for Sesame productions, Bunch's big break came with Bear in the Big Blue House, where he performed Treelo, Pop, and Doc Hogg. Bunch eventually rejoined Sesame Street as a regular performer, playing a variety of one-shot ancillary characters: mainly announcers, game show hosts, and parody Muppets. His main Sesame character is Elmo's dad, Louie, a role he inherited from Bill Barretta. He also performs Rosita's dad, Ricardo.
Bunch has also sung in voice-over in the remake of the "Ten Turtles" animation, and the theme song for the Sesame parody "True Mud." Bunch has voiced various characters for the recurring segments Bert and Ernie's Great Adventures and Abby's Flying Fairy School. He also voiced Jack Bowser and others on the 2009 revival of The Electric Company.
His puppetry work outside of the Muppets includes Between the Lions (as Dr. Nitwhite), The Book of Pooh (puppeteering Tigger to Jim Cummings' voice), Oobi (Grampu), It's a Big Big World (Winslow, Riona the Baby Sloth), Crank Yankers, and the Jim Henson Company show Julie's Greenroom (Hugo). In live-action, Bunch has appeared on the Law & Order "Criminal Intent" and "Special Victims Unit" series.
Muppet/Henson credits
Sesame Street: Louie, Rico, Mr. Can You Guess, Joe Doe, Prince Cha-Cha-Charming, "Pre-School Musical" announcer, Ryan, Tom Twinkletoes, Big Bad Wolf (2007-2013), Jack the Boss, Bug (ELMOtivation video), Max Bear, Minnesota Mel, Super Chicken (Episode 4176), Jeff Bawksworthy, Jeff Probst Muppet, Agent Van Cuckoo, Blake Shelton Muppet, Bela Pogolyi, Skip Squawk, various Anything Muppets
Don't Forget to Watch the Movie: background characters
The Producers: Pigeons
Emmet Otter's Jug-Band Christmas (stage show): Doc Bullfrog, Catfish, Squirrels, (also Puppet Captain)
A Muppets Christmas: Letters to Santa: Rizzo the Rat (some lines), Pigeons (mother)
The Muppets (film): Foozie Bear, Thog, Whatnot Reporter, Hobo Muppet, J. G. (home video)
The Public Theater's A Winter's Tale: AM Monster
The Muppets (series)
Julie's Greenroom: Hugo
Last Week Tonight with John Oliver: Penguin
The Muppets Take the O2: Reggie the Guard
When You Wish Upon a Pickle: AM Monster, Sun (voice)
Voice roles
Composer
See also
Sources
External links