USA Today is a national American daily newspaper with one of the largest circulations of American newspapers. Founded in 1982, the paper has a circulation of roughly 1.8 million copies.
Appearances
2004
Caroll Spinney provided an artwork for an issue celebrating Sesame Street's 35th anniversary.
2014
As part of the promotional push for the film Muppets Most Wanted, USA Today's website added an image of a smiling Constantine to their logo on March 21, 2014, the date of the movie's US release. Clicking on the frog's face launched a video clip of Constantine answering the "USA Today Life Five Questions".[1] A transcript follows.
Constantine: Come on, look at these guns! Look at them! Mmm! Mmm hm! See me flexing?
Question: Do you think there is a resemblance betwen you and Kermit?
Constantine: I see no resemblance between myself and Kyermit the Frog. We have very different personalities, and very different looking faces, and everything.
Question: What martial arts have you perfected?
Constantine: I know kung fu. I know, uh... beef with broccoli. I know, uh, this move -- hyaa! -- which I don't know what it's called.
Question: Why do you think people love Russian villains?
Constantine: Because we are so enigmatic to watch on film. And we have funny way of talking.
Question: Who do you want your next co-star to be?
Constantine: I am open for any kind of things. You know what I think, it would be good to be in a very serious role, maybe with Meryl Streep, or perhaps Daniel Day-Lewis, or, uh, you know, uh -- Robin William? (sic)
Question: Would Justin Bieber be able to survive a Russian Gulag?
Constantine: Well, it is very difficult to survive in Russian gulag. You really have to know yourself. You really have to make big moves early on, to prove your worth. That is what I would do... if I were in Russian gulag.
References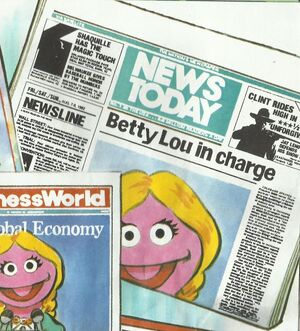 In the Sesame Street storybook, I Want to Be President, Betty Lou imagines herself on the cover over many magazines and newspapers, including "News Today," reworked from actual USA Today headlines. In the original 1993 edition, the paper actually includes an August 7-9, 1992 date. Headlines mention the likes of Shaquille O'Neal, Clint Eastwood, and Jay Leno. Later re-issues removed the date and replaced the sports/movie headlines with generic graphics. However, actual text, referencing George H. W. Bush and the Rodney King trial, remained unchanged.
Sources
External links
Community content is available under
CC-BY-SA
unless otherwise noted.