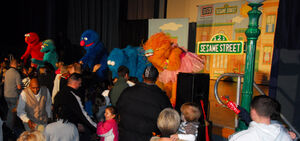 Linked to Talk, Listen, Connect, Sesame Street Experience for Military Families is a Sesame Street Live-like production by Sesame Workshop, VEE Corporation and the United Service Organizations (USO).
Produced by the USO, the show started in the United States in 2008. Since then it has had performances across the United States (including Alaska and Hawaii) as well as bases around the world. The Sesame Street Experience for Military Families is the first-ever traveling USO tour designed specifically for military families, and has become the longest-running tour in USO history.[1]
Children and parents receive support material (including the DVD) and a stuffed toy[2] or "swinging Elmo light"[3] after the production. In some locations, over 1,000 people have attended each show.[4]
First Phase, July to November 2008
Second Phase, September to December 2009
Third Phase, January to February 2010
Installations: Japan, South Korea, Guam
Fourth Phase, April to September 2010
Installations: Continental United States
Special Installment (featuring Kevin Clash and Carmen Osbahr)
Sixth Phase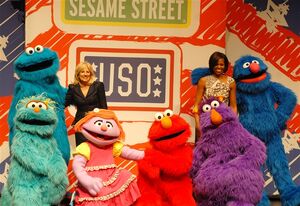 The tour was launched by First Lady Michelle Obama and Dr. Jill Biden in Columbus, Ohio, as the duo wrapped their national Joining Forces tour to support America's military families.
This was initially dubbed the Fifth Phase, but retroactively has been rebranded as the Sixth Phase by the USO FAQ.[6]
Installations: Alaska, Hawaii, Guam, South Korea, Turkey, Belgium, Germany, the Netherlands, Italy, England, Spain, and Japan
Songs: "The Elmo Slide", "Sesame Street Theme", "Another Sunny Day", "Amigo", "Dancing Shoes", "Things Are Always Changing", "How Do You Say Hello?", "What I Am", and "We're Gonna Be Here for You"
See also
Sources
External links
Community content is available under
CC-BY-SA
unless otherwise noted.