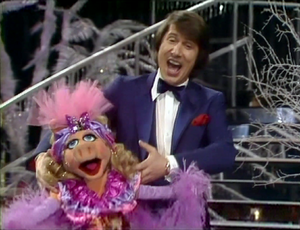 Udo Jürgens (1934-2014, born Udo Jürgen Bockelmann) was an Austrian composer and singer. Jürgens' German-language career spanned several decades, though he was also famous for having international artists such as Shirley Bassey, Frank Sinatra, Sammy Davis Jr. and Bing Crosby cover his songs in English.
For the 1978/1979 New Year's show Jetzt geht die Party richtig los Jürgens appeared with Miss Piggy, dancing together and singing "Es wird Nacht, Senorita," with scenes of Piggy, Kermit and Statler and Waldorf appearing in the balcony box throughout the show.
In 2013, he appeared in an installment of Sesamstrasse's Ernie & Bert Songs, covering his famous schlager "Aber bitte mit Sahne," with altered lyrics. The clip was further featured on Die Große Sesamstrassen-Gala, a musical celebration produced for the show's 40th anniversary.
External links