(6 intermediate revisions by one other user not shown)
Line 1:
Line 1:
−

[[Image:Ulfkallvik.jpg|frame]]

+

[[Image:Ulfkallvik.jpg|]]

−

'''Ulf Källvik''' is a Swedish actor who voiced [[Wembley]] on ''[[Fragglarna]]'' (''[[Fraggle Rock]]'') and [[Gonzo]] in ''[[Mupparnas Julsaga]]'' (''[[A Muppet Christmas Carol]]'') and ''[[Mupparna I Rymden]]'' (''[[Muppets from Space]]'').

+

'''Ulf Källvik''' is a Swedish actor who voiced [[Wembley]] on ''[[Fragglarna]]'' (''[[Fraggle Rock]]'') and [[Gonzo]] in ''[[Mupparnas Julsaga]]'' (''[[ Muppet Christmas Carol]]'') and ''[[Mupparna I Rymden]]'' (''[[Muppets from Space]]'').

 
 
−

In [[Sweden]], Källvik is known primarily as a singer, and he tours the country every summer singing popular Swedish folksongs. He has also appeared in various musicals staged at Swedish theaters.

+

In [[Sweden]], Källvik is known primarily as a singer and tours the country every summer singing popular Swedish folksongs. He has also appeared in various musicals staged at Swedish theaters.

 
 
−

Källvik's voice credits include ''Lucky Luke'' (as Joe Dalton), ''Disney's Tale Spin'', ''[[Alice in Wonderland]]'' (as the Dodo and Caterpillar), ''Ducktales: The Movie, Treasure of the Lost Lamp'' (as Launchpad McQuack and Merlock), ''Flubber'' (dubbing Ted Levine), ''Astérix et la surprise de César,'' and many others.

+

Källvik's voice credits include ''Lucky Luke'' (as Joe Dalton), '''', ''[[Alice in Wonderland]]'' (as the Dodo and Caterpillar), '' Movie Treasure of the Lost Lamp'' (as Launchpad McQuack and Merlock), ''Flubber'' (dubbing Ted Levine), ''Astérix et la surprise de César,'' and many others.

 
 
−

==External Links==

+

==External ==

 

* [http://imdb.com/name/nm0477663/ IMDb]

 

* [http://imdb.com/name/nm0477663/ IMDb]

 
 
 
+

__NOWYSIWYG__

⚫
 
 
+

{{DEFAULTSORT:Kallvik, Ulf}}

 
⚫
---
Latest revision as of 23:02, 3 June 2020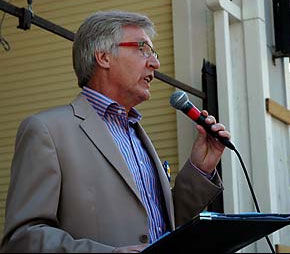 Ulf Källvik is a Swedish actor who voiced Wembley on Fragglarna (Fraggle Rock) and Gonzo in Mupparnas Julsaga (The Muppet Christmas Carol) and Mupparna I Rymden (Muppets from Space).
In Sweden, Källvik is known primarily as a singer and tours the country every summer singing popular Swedish folksongs. He has also appeared in various musicals staged at Swedish theaters.
Källvik's voice credits include Lucky Luke (as Joe Dalton), TaleSpin, Alice in Wonderland (as the Dodo and Caterpillar), DuckTales the Movie: Treasure of the Lost Lamp (as Launchpad McQuack and Merlock), Flubber (dubbing Ted Levine), Astérix et la surprise de César, and many others.
External links