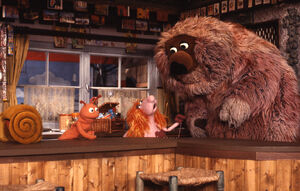 Uli von Bödefeld (often referred to as Herr von Bödefeld, or simply Bödefeld) was a character from Sesamstrasse, the German co-production of Sesame Street.
Uli von Bödefeld is a large pink creature with a long snout and orange hair. He is very melodramatic and will do anything to get his way. He is usually found trying to find peace and quiet in places where he's not supposed to be, like Samson's hammock. People are often annoyed with Bödefeld, who was initially to be named Blödefeld; "blöd" meaning dumb or stupid.
Bödefeld was added to the cast in 1978, during the second year production of the German street stories. In his first appearance, Samson and Tiffy discovered him in Samson's cave, refusing to leave. His female voice and looks caused quite a lot of discussion among audiences through the years.
Bödefeld was built by Peter Röders, the owner of the company Fabula Filmpuppen. Röders was also the first performer of Samson. His puppeteer was female actress Benita Steinmann.
When the original street set and puppets were destroyed in a fire in 1988, Samson, Tiffy and Finchen were rebuilt; but the producers did not want to pay new licensing fees for Bödefeld, so the character was dropped and a newly developed character took over the role of the troublemaker on the street: Rumpel the Grouch.

External Links