Line 1:
Line 1:
 

[[Image:UlitsaSezam.jpg|frame| Kubik (Orange), Zeliboba (Blui) and Businka (Pink) from Russia]]

 

[[Image:UlitsaSezam.jpg|frame| Kubik (Orange), Zeliboba (Blui) and Businka (Pink) from Russia]]

−

[[Image:Ulitsasezam.JPG|frame| Kubik (Orange), Zeliboba (Blui) and Businka (Pink) from Russia]]

+

[[Image:Ulitsasezam.JPG||]]

−
 
 

'''Ulitsa Sezam''' is the Russian co-production of [[Sesame Street]].

 

'''Ulitsa Sezam''' is the Russian co-production of [[Sesame Street]].

 
 
 

The Muppet characters are [[Zeliboba]], [[Businka]] and [[Kubik]].

 

The Muppet characters are [[Zeliboba]], [[Businka]] and [[Kubik]].

−
 
 
 
 

==Sesame Workshop description==

 

==Sesame Workshop description==
---
Revision as of 20:51, 2 May 2006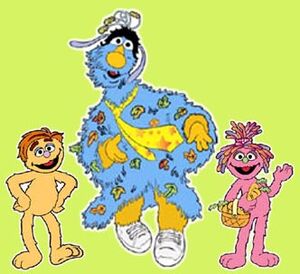 Ulitsa Sezam is the Russian co-production of Sesame Street.
The Muppet characters are Zeliboba, Businka and Kubik.
Sesame Workshop description
Russian children and their families have been enjoying Ulitsa Sezam since it began airing in 1996. This educational and engaging series is composed of curriculum goals developed by Russian educators and writers. The series includes regionally diverse original material produced and filmed in Russia, as well as segments from the Sesame Street International Library. The Ulitsa Sezam set features a Russian courtyard surrounded by homes and stores that are populated by both Ulitsa Sezam Muppets (puppet characters) and human characters.
Ulitsa Sezam has been successfully produced and aired in Russia since 1996 with sponsorship from USAID, the Soros Foundation, and the Nestlé Corporation with support from the Russian Ministry of Education. Three seasons and a total of 156 30-minute episodes have been produced to date. The show currently airs on NTV.
Ulitsa Sezam engages preschoolers to learn about the lives and interests of people from a variety of cultures and backgrounds, including their own. The show incorporates a uniquely innovative educational curriculum created by Russian educators and child development experts. Its current focus is on good nutrition, health and well being, and diversity.
Community content is available under
CC-BY-SA
unless otherwise noted.