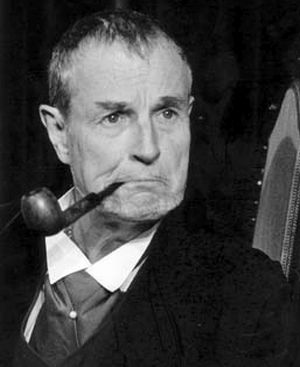 Ulrich Frank (1943-2017) was a German voice actor who dubbed pirates Calico Jerry and Kurzer Stumpen Stevens in Muppets Die Schatzinsel (Muppet Treasure Island). He also voiced Snookie Blyer in the German dub of Muppets Tonight.
Frank began his career on stage, and at various times played Sherlock Holmes (such as in a 2006 production of The Hound of the Baskervilles). In dubbing, he was the German voice of William H. Macy in Boogie Nights and The Cooler, Michael Jeter in Tango & Cash and True Crime, Bill Irwin in Rachel Getting Married, Julian Wadham in The English Patient, Richard Hunt in Oxford Blues, James Wilby in Howards End, Jere Burns in My Giant, Gary Oldman in Basquiat, Jon Stewart in The Faculty, and Ron Fassler in Flags of Our Fathers. TV dub roles included David Suchet on the last eight seasons of Poirot, Steve Pemberton on Gormenghast, many visitors to Cheers, and Frank Collison on Good Luck Charlie.
In animated features or specials, Frank dubbed Fungus in Monsters Inc., attorney Talon Labarthe in Ratatouille, Mr. Soil in A Bug's Life, Crank in Robots, and George Jetson in The Jetsons Meet the Flintstones. He was the German voice of Ned Flanders on The Simpsons for 25 years and also dubbed the Green Goblin and the Scorpion on Spider-Man, Henry Mitchell on Dennis the Menace, Rancid Rabbit on CatDog, and Cliffjumper and others on Transformers.
External links