Written by
David Bowie
Date
1986
Publisher
Jones Music and Brookwood Productions KY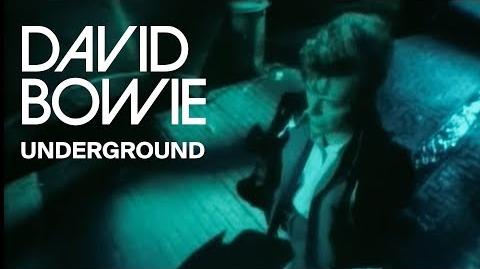 "Underground" is the main/closing title song from Labyrinth, performed by David Bowie. The song was released on 12" and 7" singles worldwide. The 12" contained three remixes of the title track while the 7" contained an edited version of Underground with an instrumental version on the B-side. The song was produced by David Bowie and Arif Mardin. Additional production and re-mix was by Steve Thompson and Michael Barbiero.
A music video was produced to accompany the single release. It was directed by Steve Barron and featured David Bowie (as himself, not in character as Jareth) and some of the Labyrinth characters, including Hoggle, The Junk Lady, various Goblins, the Helping Hands (who sing backup for a few stanzas), and the Right Door Knocker. It also contained clips from the Labyrinth movie. The music video was included on the VHS and laserdisc Bowie: The Video Collection and the DVD Best Of Bowie. It could be found on David Bowie's official YouTube channel, and later on music publisher EMI's channel.
See also
Community content is available under
CC-BY-SA
unless otherwise noted.