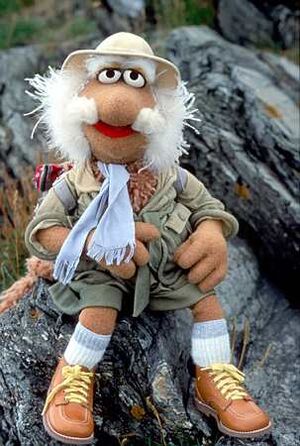 The television series Fraggle Rock has resulted in three television spin-offs — a Saturday morning cartoon in 1987, the animated series The Doozers in 2013 and the short-form series Fraggle Rock: Rock On! in 2020; however producers have explored the idea of other possible spin-off productions throughout the years.
Traveling Matt spin-off
During production of the third season of Fraggle Rock, Jim Henson began thinking of projects for after the series. One idea, outlined in a March 1984 memo, focused on Traveling Matt and two new Fraggle characters exploring the globe in a hot air balloon. According to Henson biographer Brian Jay Jones:
"Henson was more excited, however, by the idea of doing a Fraggle Rock spinoff series. In a memo to the creative staff, Jim described a show built around Uncle Matt and two new Fraggle characters, who "travel around the world in a nutty hot air balloon," wrote Jim enthusiastically, "landing in new places each week ... possibly on a quest to gather music." Jim had even planned out the technical tricks he wanted to put to work each week. "We could radio-control Uncle Matt and the female Fraggle on a bicycle with a sidecar ... and the Doozers might follow along in their radio-controlled vehicles."[1]"
The Saga of Fraggle Rock
Among ideas Jim Henson proposed for a feature in the second half-hour of a potential episode of The Jim Henson Hour was "an origin storytelling of the discovery of Fraggle Rock called The Saga of Fraggle Rock."[2] The special was not produced.
For more information, see Fraggle Rock (movie)
A feature film based on Fraggle Rock has been in and out of development with The Jim Henson Company since 2005. The proposed film would take "Gobo, Wembley, Mokey, Boober and Red on an adventure outside of Fraggle Rock where they interact with the strange beings in 'outer space' (also known as humans)."[3]
Sources
Community content is available under
CC-BY-SA
unless otherwise noted.