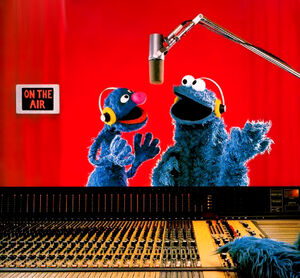 Over the years, some proposed Sesame Street recordings never made it to retail stores. This page documents those albums that were proposed but never released.
Sesame Street Records (1974)
On the back covers of early pressings of the first series of Sesame Street albums from 1974, four titles and catalog numbers are listed that were never released. It is not known if these albums were recorded and then shelved, or if they never got past the planning stages. Later pressings of the 1974 Sesame Street album series do not show these titles and numbers.
The titles and numbers are:
CTW 22053-Bob and Susan Sing Songs from Sesame Street
CTW 22054-Tu Me Gustas (I Like You)
CTW 22063-Sesame Street Story Time
CTW 22065-Sesame Street Zoo
1978 albums
A 1978 CTW memo between David Connell, Ed Palmer and Al Hyslop revealed a pair of albums proposed, but never made - a "Get Well" album and a "Coping with Failure" album.[1]
Other
Other albums documented in the late 1970s, but never produced include It Ain't So Bad To Get Mad (featuring Marilyn Sokol and the Muppets), Kids' Liberation (with a children's chorus and some of the human cast), and a Super Grover-themed album.[1]
See also
Sources
↑ 1.0 1.1 Documents from CTW Archives at University of Maryland
Community content is available under
CC-BY-SA
unless otherwise noted.