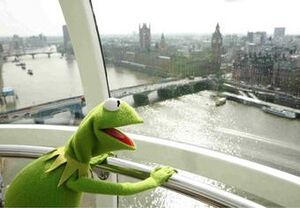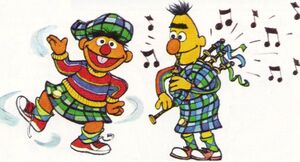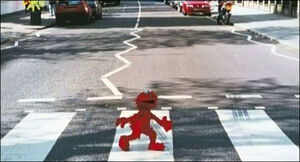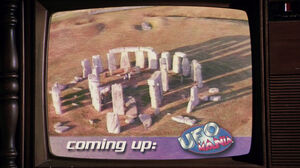 The United Kingdom of Great Britain and Northern Ireland, or the UK, is a political union in north-western Europe, comprising the four countries of England, Scotland, Wales, and Northern Ireland. Most of its territory lies on the island of Great Britain; the rest includes Northern Ireland on the island of Ireland, and a few smaller islands in the vicinity. It is a constitutional monarchy, and its current ruler is Queen Elizabeth II.
It was in the United Kingdom that Jim Henson got his big break for the creation and production of The Muppet Show. Although working there for several specials prior, it was after watching one of the Muppet pilots that British television producer Lew Grade brought Henson over to create his Muppet variety show at one of his Associated TeleVision studios in Elstree, near London. The show was distributed in England through the ITV networks (of which ATV was one) and through the rest of the world by way of ITC Entertainment (which was the Grade section of the Midlands-based network, though infamous for making his shows in and around London). London was also the location of the second of the Grade-produced Muppet films: The Great Muppet Caper.
Although more associated with American and Canadian producers and creators, Fraggle Rock also had a British co-production, this time connected with Television South, an ITV network company in Southern England during the period of the series' production in the mid-80s.
When Sesame Street was not purchased by the BBC in the 1970s, there were false rumors that it was banned. Actually, it was being shown in the 1970s on London Weekend Television (an ITV network company in London) and on Channel Four Television from mid-1980s until 2001. In the 2000s, both a UK version of Play With Me Sesame and a Northern Ireland-produced Sesame Tree aired.
Fathers' rights activist Bobby Smith has gained notoriety in Britain for his political party "Give Me Back Elmo". During the 2015[1] and 2017 general elections,[2] he dresses in a cheap Elmo mascot costume, posing outside the polling office where the incumbent is voting. In the 2017 election he stood for office in Maidenhead, the riding of incumbent Prime Minister Theresa May, allowing him (and others including Lord Buckethead) to stand near her during the announcement of polling results.[3] He received just three votes in the riding.[4] There is a restraining order against Smith, in relation to his children. The July 18, 2017 episode of BBC podcast More or Less included a segment suggesting that the candidate may have received the lowest number of votes ever in a British federal election.
References
Sources