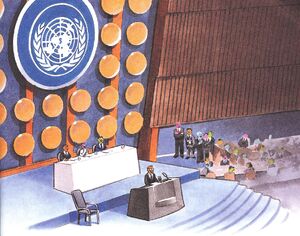 The United Nations (UN) is an international organization whose stated aims are facilitating cooperation in international law, international security, economic development, social progress, human rights, and achievement of world peace. The UN was founded in 1945 after World War II to replace the League of Nations, to stop wars between countries, and to provide a platform for dialogue.
There are currently 193 member states, including every internationally recognised sovereign state in the world but the Vatican City. The Muppets have worked with their organization UNICEF on multiple occasions.
Appearances
Kami appeared at World AIDS Day, which was created by the UN, at the UN Headquarters in 2002.
References
In the 1993 book I Want to Be President, Betty Lou watches the President make a speech at the United Nations building, which inspires her to become President.
Sesame Street productions often recognize United Nations observances on social media, like the International Day of Families (see Nick Jonas) or World Toilet Day (Galli Galli Sim Sim on Facebook).
Mentions
Speaking in front of the U.N. General Assembly in September of 2021, British Prime Minister Boris Jonson gave a speech about climate change, evoking Kermit the Frog, his song "Bein' Green," as well as Miss Piggy. On September 23, 2021, Stephen Colbert played the clip of Johnson on The Late Show with Stephen Colbert, and continued musing about the seriousness of the issue by also referencing Statler and Waldorf, Fozzie Bear, Animal, The Swedish Chef, Gonzo, and the songs "Rainbow Connection," and "Mah Na Mah Na." (YouTube)
Connections
Kofi Annan, Secretary-General of the United Nations from 1997 to 2007, has appeared on Sesame Street, as well as the South African co-production, Takalani Sesame.
External links