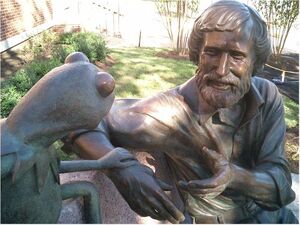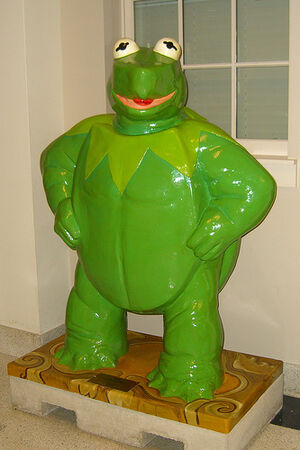 The University of Maryland in College Park, Maryland, is Jim Henson's alma mater. He started his TV career shortly before entering his Freshman year, and he met his future wife, Jane Nebel while he was a student there. Henson began at the university in 1954 and graduated on June 4, 1960 with the degree of Bachelor of Science in Home Economics.[1]
A statue of Henson and Kermit the Frog is on the College Park campus, outside the Adele H. Stamp Student Union.[2] The statue was dedicated on September 24, 2003, in a ceremony that included Jane Henson and Willard Scott as speakers.
In 2006, the Student Union introduced 50 statues of their school mascot, Testudo the Terrapin, with varying designs (chosen by different sponsoring groups). Among them was Kertle, a statue designed to look like Kermit the Frog.
The University of Maryland Libraries has an extensive collection of Jim Henson videos, "The Jim Henson Works," that can be viewed from computers in the UMD libraries.
CTW Archives
The University of Maryland Libraries also holds the archives of the Children's Television Workshop in the National Public Broadcasting Archives (part of the Broadcasting Archives along with the Library of American Broadcasting). These archives are accessible to the general public, and have been used as source materials for some of the articles on this wiki (including their collection of Script Highlights). (See the talk page for more information on locating the sources used on the wiki's Sesame Street episode pages.)
An index of the CTW archives files is posted here, on the National Public Broadcasting Archives website. More detailed contents are listed in .pdf files, accessible on the site by clicking on the "Box inventory" links.
The files themselves are not available on the Internet. To view the files, researchers can visit the Hornbake Library in College Park, Maryland. The National Public Broadcasting Archives is open on weekdays from 10am to 5pm. See the National Public Broadcasting Archives website for more information.
Events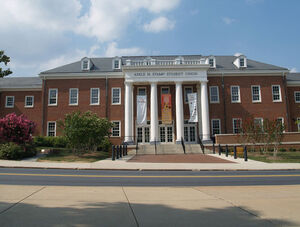 Several events have been held at UMD over the years featuring exhibits and discussion panels related to Jim Henson's career.
External links
Sources