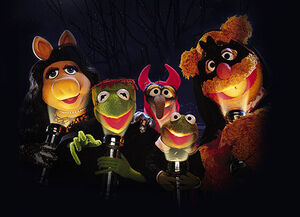 The Muppets have made several attempts at producing Halloween-themed television specials. The first was The Muppet Halloween Show in the early 1970s. A theatrical feature was considered during the 1990s, followed by an attempt at an ongoing series in the early 2000s.
1991
A year after Jim Henson's death, a short piece in TV Guide talked about plans for the Muppets' return to television:
"

The classic Muppet characters -- including Miss Piggy, Fozzie, Kermit and Gonzo -- will be slowly making their way back onto television, beginning with a Muppet special tentatively planned for Halloween. That's the word from Jim Henson Productions president Brian Henson, who says the company is "coordinating an overall strategy" to get his late father's priceless puppets "back on the air and to do more with them. We'll start in a small way, primarily with holiday specials."[1]

"
The early treatments of the Halloween special included scenes where the Muppet characters turned into classic Hollywood monsters (i.e., Kermit/Frankenstein, Piggy/Bride of Frankenstein, Fozzie/The Wolfman to name a few).
The same idea was later explored in a Henson video game, Muppet Monster Adventure.
2009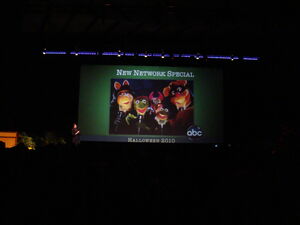 A special event was held for Walt Disney World Passholders at Disney's Hollywood Studios on March 7th, 2009. Craig Shemin hosted a presentation and guest panel including Dave Goelz (with Gonzo), Heather Henson, and Stephanie D'Abruzzo. It was revealed during a Q&A session about upcoming projects that a new Halloween special with the Muppets was in the works.[2]
Rumors soon circulated that the special was planned to air in October that year,[3] but was later confirmed at the D23 Expo in September 2009 that the special was on hold until 2010.[4]
According to the Disney news website Jim Hill Media, the special was postponed once again to allow The Muppets Studio to focus all its creative energy on the production of The Muppets in 2011.[5]
Sources