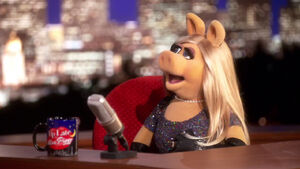 Up Late with Miss Piggy is the fictional late night television show hosted by Miss Piggy in the 2015 ABC television series The Muppets.
In an interview with the Associated Press (VIDEO), Kermit lists the potential names they went through before settling on Up Late with Miss Piggy: Don't Look Now It's Miss Piggy, Oh No It's Miss Piggy, and The Late Miss Piggy.
Miss Piggy's previous hosting experience includes The Fantastic Miss Piggy Show (1982), Miss Piggy's Hollywood (1989), and UFO Mania (1999). She also counts serving as editor of Vogue Paris amongst her professional credentials, with very brief stints as a secretary for British fashion mogul Lady Holiday and selling perfume at NYC's Bergdorf Goodman, before getting arrested on the former and being fired on the latter.
The show was originally intended to follow Jimmy Kimmel Live on ABC,[1] but a press release states that the show runs in syndication.
The backdrop behind Miss Piggy's desk features the Los Angeles skyline with the Eiffel Tower inserted. The space outside the stage consists of a general office area, a writer's room, Kermit's office, and Miss Piggy's dressing room.
Staff
Temporary staff
Network Staff
Sketches and songs
"Who Tweeted It?" with Fozzie and Animal.
"Bad Reputation" performed by Joan Jett and Miss Piggy (with the crew supporting #UnveilTheTail)
Potential sketches and songs
Guests
Potential guests
Patrick Dempsey - Set to be a guest but cancels due to a poison ivy rash and is replaced with a giant stick of butter in "Pig's in a Blackout".
John Mayer - In the episode "Got Silk?," Sweetums says that Mayer left a scarf in the green room implying that Mayer may have been a previous guest of the show (or at least visited the studio).
Bruno Mars - Set to appear on Up Late in the episode "Because... Love" but cancels when he learns of Kermit and Piggy's rekindled romance.
Notes
The first three episodes of The Muppets featured a red guest couch, starting in episode 5, the couch was changed to blue.
Rowlf the Dog doesn't work on Up Late, but he owns the tavern across the street from the studio where the cast spends time after the show.[2] Statler and Waldorf also don't work on the show, but are regular audience members. The Newsman works at a nearby news station, but has access to the Up Late offices.
Sources