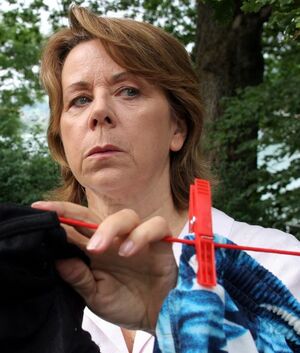 Uschi Wolff (born Ursula Wolff, 1943), is a German voice actress, working primarily in Berlin. She dubbed Annie Sue on Die Muppet Show (The Muppet Show) and Jenny in Die Muppets erobern Manhattan (The Muppets Take Manhattan).
Wolff began her career as a child actress, appearing in the two Trapp Family films of the 1950s as Agathe. She also had a small role in Maximilian Schell's 1960 TV version of Hamlet. She later appeared in episodes of Tatort and Der Kommissar.
As a voice actress, Wolff dubbed Debra Winger in An Officer and a Gentleman and other projects, Annie Golden in Hair, Demi Moore in The Seventh Sign, Andie MacDowell in St. Elmo's Fire, and Jennifer Tilly in House Arrest. On television, she dubbed Natalie West on Roseanne, Jenny O'Hara and other guests on Judging Amy, Rosalind Chao on Spider-Man, and Annette Badland on Outlander. In animation, she was the speaking voice of Snow White in the 1966 redub of Disney's Snow White and the Seven Dwarfs, Clara on the Heidi anime series, and Cartman's mother on South Park.
External links
Community content is available under
CC-BY-SA
unless otherwise noted.