I am Cookie3001 (my real name is William). I am a puppeteer and muppet fan. I started on Muppet Central Forum and I have been reading Muppet Wiki since I was 8 years old. I really owe it to Muppet Wiki for helping me become the muppet expert I have become. If it weren't for Muppet Wiki I wouldn't know all the stuff I know now I have been a hudge fan of Jim Henson and The Muppets since I was just a baby. I started by growing up with Sesame Street and Bear in the Big Blue House. As I got older I became interested in The Muppet Show, Fraggle Rock, The Dark Crystal, Labyrinth and much more. when I was 9 I found a pasion for puppetry. I now perform and make puppets for a living and am captain of a puppet troupe called "The Crumpit Puppet Troupe. This entire puppet troupe is inspired by the works of the great Jim Henson.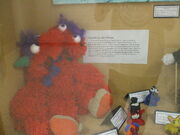 Favorite articles
Community content is available under
CC-BY-SA
unless otherwise noted.