My coloured text
Harvey P. Dull is a recurring character in the Sesame Street co-production, The Furchester Hotel. Dull is a long-term occupant of the Furchester Hotel. In similar fashion to Mr. Johnson, he frequently bears the brunt of the poor service. He cites the one positive of the hotel is his favorite, comfy chair. He claims the only reason he resides there is a lack of availability in any other nearby hotel.
Main Sesame Street characters that are made from Anything Muppets include Count von Count, Prairie Dawn, Mr. Johnson, Roosevelt Franklin, Guy Smiley, Lefty the Salesman, the Twiddlebugs, and Sherlock Hemlock.
Kermit is joined by Polly Lobster, Clueless Morgan, Mad Monty and the other pirates from Muppet Treasure Island in this half hour of pirate songs. The Wild Boars also make an appearance.
"Something's Cookin'" is an original musical piece written for The Muppets Take Manhattan. RIZZO scats along during the number. The rats, Chester, Masterson, Tatooey and Yolanda, are seen making breakfast at Pete's Luncheonette during the scat.
Animal, Agnes Stonewick, Baby Band, Baskerville the Hound, Beaker, Bears, Beauregard, Bert, Beth Bear, Biff, Big Bird, Bill, Bobby Benson, Bubba, Bunsen Honeydew, Buster the Horse, Camilla, Chester Rat, Clementine, Cookie Monster, COUNT VON COUNT, Crazy Harry, Deena, Dinger, Dr. Teeth, Droop, Elmo, Ernie, Fazoobs, Female Koozebanian Creature, Flower-Eating Monster, Floyd Pepper, Foo Foo, Forcryingoutloud Bird, Forgetful Jones, Fozzie Bear, Gaffer, George the Janitor, Geri and the Atrics, Gil, Gonzo, Gramps, Grover, Grundgetta, Guy Smiley, Herry Monster, Hilda, Homer Honker, Honkers, Irvine, Janice, Jill, J.P. Grosse, Julius Strangepork, Lew Zealand, Lewis Kazagger, Link Hogthrob, Lips, Lothar, Lou, Lubbock Lou, Luncheon Counter Monster, Mahna Mahna, Male Koozebanian Creature, Marvin Suggs, Masterson Rat, Maurice Monster, Mildred, Mona Monster, Mrs. Appleby, Newsman, Oscar the Grouch, Pearl, Penguins, Pigs, Pops, Quongo, Rizzo the Rat, Robin the Frog, Rowlf the Dog, Sam the Eagle, Scooter, Sherlock Hemlock, Simon Soundman, Slim Wilson, The Snowths, Sully, The Swedish Chef, Tatooey Rat, Telly Monster, Two-Headed Monster, Uncle Deadly, Uncle Traveling Matt, Whaddayasay Bird, The White Rabbit, Yolanda Rat, Zeke, Zoot
Mordecai Sledge is one of the villainous farmers in the syndicated 1972 hour-long MUPPET TV special "The Muppet Musicians of Bremen". He is the leader of a gang of villains, consisting of Lardpork, Mean Floyd and Caleb Siles, and he is the original owner of Leroy the Donkey.
Mordecai has a particularly short temper, and it is sometimes difficult to understand what he is saying, which is usually a good thing, according to Kermit.
Non-Muppet productions: Barney & Friends, Between the Lions, Higglytown Heroes, Out of the Box, Rolie Polie Olie, Arthur, JoJo's Circus, The Koala Brothers, The Adventures of Jimmy Neutron: Boy Genius, Rugrats, Dragon Tales, The Magic School Bus, PB&J Otter, SpongeBob SquarePants, Dora the Explorer, The Backyardigans, Oswald, Bob the Builder, The Book of Pooh, Stanley, Blue's Room, Blue's Clues, Clifford the Big Red Dog, Kim Possible, The Proud Family, LazyTown, Lilo and Stitch the series, Madeline, Little Bill, The Fairly OddParents, Zoom, Sagwa, the Chinese Siamese Cat
When the Wizard leaves, Papa Bear comments that things are "going to be rough." Suddenly, he turns into a dog. In her comments, Mama Bear says "neigh" (as in no), and turns into a horse. Baby Bear realized that whenever they make something that sounds like an animal sound, they turn into that animal. To experiment, they all go "oink, oink, oink" and turn into pigs. The Big Bad Wolf happened to be coming along at the time, and tries to capture the three pigs. They quickly growl to turn back into bears, leaving the Wolf to mope away in disappointment. Returning to the Street scene, Baby Bear comments "...and that, my friends, is why you never see me doing animal impressions."
When Leonard showed up, Elmo and Rosita assumed that he was a bad wolf, and they screamed at him to go away. Leonard explained that he's different: "I don't always do the same thing as my brother! I'm not a huffer and puffer. Why, I don't even chase pigs! I do play canasta with them every Thursday. And that's not all! On Tuesdays, I practice the violin. On Wednesdays, chess -- followed by tai chi! Yes, there's lots of things to do if you're not so busy huffing and puffing."
"Pooch on the Loose" is a song performed by Tug Monster, Boo Monster and Molly Monster about Foo-Foo in the unaired episode of Little Muppet Monsters, "Foo-Foo Phooey."
Rudder Rabbit appears in episode 2754 of Sesame Street. He is one of the animal stars in Placido Flamingo's opera "The Perfect Thing," along with Gladys the Cow, Buster the Horse, Hoots the Owl, and Bob (dressed as a bumblebee). In the opera, Rudder wields a carrot to "crunch," representing the sound he makes when he eats his lunch.
Muppet saxophone players:
Zoot

Hoots the Owl

Ernie

, Put Down the

Duckie

The Porcupine

,

Billy Bunny

's

Animal

Songs

Louie

(

Elmo

's

Dad

), Sesame Beginnings

Big Bird

, Kurt Adler Sesame Street

Christ

mas

Ornaments (pic)

Cookie Monster

, a la Clarence Clemons, on the cover of Born to Add

Clarice

Lemons

, "Born to Add"

Flash

Harvey Monster

(sans

horns

; with different eyes and teeth), "

I

Want a Monster to Be

My

Friend"

Gunge

, episode 218 of Fraggle Rock

Inkspot

, Kokomo

Mordicus

Kermit the Frog

, on an NHL pin
Elmo enters the film, and asks the birds if they know his friend Placido Flamingo.
Grover is thrilled because he has been assigned to play the cannon in the Monsterpolitan Opera performance of the 1812 Overture. However, Grover gets lost, pushes the cannon up stairs and down hallways, and stumbles upon the overture to Carmen (starring Placido Flamingo), a can-can, The Barber of Seville, and the William Tell Overture. Elmo the cymbal player, joins him halfway through. They finally arrive and give stirring performances, but an exhausted Grover decides next time, he'll just play a trumpet solo.
Gordon notices a camera crew setting up in the arbor and Telly explains it's for his new TV show. One of his guests, Flo Bear, arrives and the show, "Telly Vision," is ready to begin.
"Telly Vision" returns from commercial and Telly begins interviewing Flo. She states she's always been a writer, ever since she was a cub (shown in flashbacks), though had some trouble with organizing the letters. Today, she's written poems, novels and most recently, a daytime drama. Telly cues an advanced sneak peak...
Telly throws to a break and tries probing Flo for answers on future installments of All My Letters.
"Telly Vision" returns and joining Telly now is Placido Flamingo, who performs his "Alphabet Aria." Telly thanks his guests and closes the program.
In an episode of Sesame Street, the tune is performed by PLACIDO FLAMINGO with a quartet made up of three Honkers and Olivia.
In an interview with CNN in 2015, Cookie Monster claims to workout to this song.
Gonzo meets with Beverly in her dressing room to demonstrate his new art form -- spoon-hanging. When Sam the Eagle arrives to worship at Beverly's feet, he's scandalized to find her practicing spoon-hanging.
Horrified when Wembley Fraggle, Red Fraggle, and Mokey Fraggle end up affected, Junior Gorg teams up with Gobo to stop the threat.
Rico, Mr. Can You Guess, Joe Doe, Prince Cha-Cha-Charming, Tom Twinkletoes, The Big Bad Wolf (Episode 4145, Episode 4266), Jack the Boss, Max Bear, Minnesota Mel, Super Chicken (in Episode 4176), Jeff Bawksworthy, Jeff Probst Muppet, Enormous Athlete, Blake Shelton Muppet, Placido Flamingo (2011-present)
Bob welcomes the viewer and gives OSCAR a cheerful morning greeting. Oscar is sick of the peace around him and hopes an argument will occur soon. Bob disagrees and an argument between them inadvertently breaks out. Soon, Gordon, Susan and HOOTS THE OWL start arguing with each other. "Now this is more like it!," Oscar declares.
My Name is Elmo is a 1993 Sesame Street storybook featuring Elmo. In it, he talks about himself and the things he likes. He enjoys being tickled and making funny faces. He loves all kinds of different colors. He likes playing horsie with Ernie and shadow tag with Big Bird. Elmo also reveals that his favorite number is four, since there are four letters in his name, as well as four wheels on his bicycle, four feet on his pet turtle, Walter, and he has four toy cars. 
As soon as Niki opens the door, Tingo flies behind the couch to hide from his crush. She reveals that she has his backpack that he left at school. Ms. Huong notices they have basketball nearby and claims she loves to play, which makes Tingo ever more lovestruck, causing him to faint. Tingo offers Ms. Huong an apple, and she says she loves apples and thanks him for the apple. Tingo then gasps like Beaker when he finds out she loves apples. "We were meant to be", he says.
This version of the Telly puppet is used for full body shots and has also occasionally been used as a spare Telly puppet for costuming. While the regular puppet is built with a sack-body, similar to Cookie Monster, this version has live-hand arms like Baby Bear.
Thomas Twiddlebug also can be seen in the "Rainbow Connection" finale of The Muppet Movie (located next to Grover).
Elmo appeared on the show on September 20, 2012, promoting the 43rd season of Sesame Street, and dancing to "Gangnam Style" with Lopez.
I.C. DeForrest was a guest on an episode of "Here is Your Life" on Sesame Street, celebrating the life of Storybook. She was the author who adapted the story of Little Red Riding Hood, Storybook's story.
Her name is a pun on "I see the forest".
Elmo opens the door to two Muppet firefighters (performed by David Rudman and STEPHANIE D'ABRUZZO) and a firetruck.
Bear has a warm, caring personality somewhat similar in style to Fred Rogers and a well-ranged singing voice.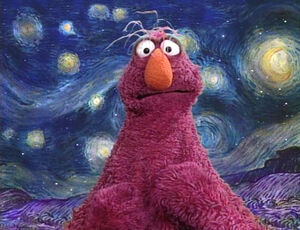 "TWINKLE TWINKLE LITTLE STAR" is an English nursery rhyme adapted from the poem "The Star," by Jane Taylor. When later set to music, the song's melody was based on "Ah! vous dirai-je, Maman," which was also the basis for "The Alphabet Song" and "Baa Baa Black Sheep."
Grundgetta's best friends are Elmo and Telly.
The original Oscar, the first year, was ORANGE!
Ernie sings the song, explaining how UNacceptable it is to change one's plans when things don't work out. He sings the song over a montage of him and the rest of the street residents dancing to his special dance.
The song was performed by Clifford in episode 207 of Muppets Tonight, when Clifford is feeling down about the rest of the cast thinking Dennis Quaid does such a great job running things until the song is interrupted by Rizzo telling him that there is a problem with the transmitter.
References
Colors
Muppet-themed color names include:
Appearances
Community content is available under
CC-BY-SA
unless otherwise noted.