All connected
Hi, could you add some more information for Episode 114: All Connected, such as a resume of the storyline, otherwise it would be a prime candidate for deletion. You can check out the other Bear episode guides to see the format for those pages. Henrik (talk) 12:38, September 30, 2010 (UTC)
Welcome
Hi, welcome to Muppet Wiki! Thanks for your edit to the Mr. Snuffleupagus page.
Please leave a message on my talk page if I can help with anything! -- Scarecroe (Talk) 16:01, June 5, 2010
Today's Special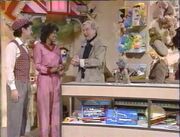 Hey Christian, nice find! File:TODAY'S SPECIAL.JPG. Do you know what episode it's from so we can start an article? —Scott

(talk) 12:02, 20 January 2021 (UTC)
Hey Scott! That comes from the episode "Phil's Visit." Funnily enough, Gerry Parkes plays the character Phil in this episode, and he's seen on-screen a few times with the Sesame plushes. I can get a screengrab with them together if you'd like.CDCB2 (talk) 12:48, 20 January 2021 (UTC)
Isn't that a Baby Piggy plush on the shelf above the Sesame ones? -- MuppetDude (talk) 13:34, 20 January 2021 (UTC)
Scott -- I uploaded a second image where Gerry Parkes can be seen with the plushes. Skimming through other episodes of Today's Special, it seems that they were added when the set was updated late in the series. For what it's worth, there's also a Baby Gonzo plush tucked away in the back. CDCB2 (talk) 14:41, 23 February 2021 (UTC)
Very cool. I don't know enough about the show. Do you want to start a Today's Special article? I was going to put it on Minor TV Mentions, but I figured it would get lost there, and certainly there must be enough visuals and connections for the show to warrant its own page here. —Scott (talk) 14:43, 23 February 2021 (UTC)
Think Fast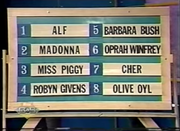 Hey man, just parking this image you uploaded here so that it doesn't show up in UnusedFiles. Not sure what it is, but feel free to add it where it may be appropriate. —Scott

(talk) 15:22, 23 June 2021 (UTC)
Bear in the Sandbox
Heya Christian! I've been going through some sandbox pages over the past few days, just trying to shape some things up for prime time. There are a few I know you were working on:
The airdates are going to be a lengthier project, for sure, but do you have thoughts on what the others might need before they're moved to the main article space? —Scott

(talk) 01:53, 8 October 2021 (UTC)

Hey Scott! I think Sandbox:Episode 001: Kayla is good to go if we're okay with covering Breakfast with Bear in detail. I have more than enough information necessary to create full-length guides with segment rundowns. I'm usually pretty busy at my own wiki these days, but I'd love to finish what I started with this show in my free time.
Sandbox:What Do You Think was an experiment that never really went anywhere. I never decided whether I wanted to cover the kids' exact answers to Bear's questions or if I just wanted to summarize 'em. I'm not sure the page is really needed anymore, but it's your call.
Similarly, Sandbox:A Berry Bear Christmas Special got berried... err, buried beneath other projects. As you may recall, production information I've shared with you indicates "A Berry Bear Christmas Special" was classified as Episode 327 of the series, so I still think it's something that should definitely be included on the wiki. One way could be to combine the summaries for Episodes 325 and 326 into one big summary for the episode page, which additional notes about 327's edits.
As for the air dates, yeah... we're pretty much in the same place overall with figuring those out. The folks at Disney Channel Broadcast Archives have been cataloging Disney Channel's schedules like I am with Nick, so that could be a use to everyone narrowing some of these down. CDCB2 (talk) 06:50, 8 October 2021 (UTC)
Sesame guide reminders
Hi! Please take a look at Forum:Sesame Street Episode Guide reminders when you get the chance.
Thanks! —Scott

(talk) 14:04, 18 June 2022 (UTC)
Guiding episodes and edit conflicts
Hey, Christian. I noticed that you have recently been adding pictures and info to help complete the episode guides. I've started working on the oldest and gradually going up, and noticed you've helped fill out some season one shows as well. Since we're both working on that season (I've just reached Episode 0022, which is currently from the script version), I'd like to try and divvy up the work so we don't end up in edit conflicts. How does this sound with you? -- Tony

(talk) 13:15, 19 June 2022 (UTC)
Not a problem! How's about I work backwards from the end of the season until we both reach the mid-point? CDCB2 (talk) 13:18, 19 June 2022 (UTC)
Another thing I thought I'd ask about; would you mind if I updated some images from your half, like those with time codes such as Episode 0110? -- Tony (talk) 16:13, 19 June 2022 (UTC)
Go for it! CDCB2 (talk) 16:45, 19 June 2022 (UTC)
Just thought I'd let you know that I've got pics and guides prepped up to Episode 0098. I've stopped with those, so I'll let you know of any others after that. You can go ahead with the others you've been working on. -- Tony (talk) 15:08, 7 July 2022 (UTC)
Sure thing! I'm probably going to move on to Season 5 if nobody else is tackling that one. CDCB2 (talk) 00:24, 10 July 2022 (UTC)
You haven't been doing guides for a little while, so I thought I'd let you know that I'm going to start working on the season 2 eps. soon. If you choose to do any, I recommend that you do any after Episode 0200 to avoid edit conflicts. Thanks in advance. -- Tony (talk) 13:41, 15 July 2022 (UTC)
Greetings!
Hiya! It's been a while - but you may also know me as Agent0042. I believe we've known each other as far back as TV Tome or TV.com. In any case, I was wondering if you could approve my friend request on Discord when you have a moment - I have something I wanted to ask about. You can find my Discord ID in my profile if you need to double-check it. Thanks in advance! ProfessorTofty (talk) 03:09, 23 June 2022 (UTC)
Hey! Great to hear from you again, and that's not a problem at all. I accepted your friend request. CDCB2 (talk) 18:33, 23 June 2022 (UTC)
Season 1 of Sesame Street
I have a super strong feeling that before we know it, Season 1 of Sesame Street will be completely guided before the end of the year! (with the exception of Episode 12 and Episode 105) since they're unfortunately lost)
- Wiggles Fan est. 2001 (talk) 06:18, 27 June 2022 (UTC)
Fixing Episode 0154
Please Fix Episode 0154 Please?