Talk Archive
Pantone
Dude, Pantone is looking amazing! Terrific work! --GrantHarding (talk) 14:02, 16 August 2021 (UTC)
Thanks! Once I figured out the patterns and codes, I finally got into a rhythm of putting every bit of info I can. There's still some work to do, like with the Muppets Tonight style guide and a few of the Sesame characters, but overall I think it's a big improvement. -- Tony (talk) 14:46, 16 August 2021 (UTC)
Fran Brill fixes
Heya, thanks for taking out the Fran Brill characters that were wrong. I was going purely based on what I found in Special:WhatLinksHere. —Scott

(talk) 21:48, 18 August 2021 (UTC)
No prob, but I do believe that she performed in "Do the Wash" as the younger lavender AM (the same one she plays in "Anybody Can Sing"), using a similar voice to that of the nurse from "The People in Your Neighborhood". Speaking of which, I don't think she was the lifeguard AM from PIYN; the puppetry is noticeably off and not her style. The only one I can think of it could be is Caroly Wilcox, but she's credited for season 7. (Edited to add: I noticed Shane's revision; my bad.) -- Tony (talk) 22:35, 18 August 2021 (UTC)
I spotted another one: the bee in the PIYN about George Washington. -- Tony (talk) 00:10, 19 August 2021 (UTC)
One more thing... the credits for "The Count's Countdown" are incorrect; Brill was the Countess and Julianne Buescher was her Mother. The full video is online for reference, and Brill herself has discussed her performance mishap concerning the Countess's wig for that number (though she mixes the songs up). The album uses the same vocal tracks for both as used on the show. -- Tony (talk) 01:59, 19 August 2021 (UTC)
That's so funny, I dragged my CD out last night after I found an old conversation citing Louise as The Countess on the recording. I scanned the booklet and ripped the disc with the intent of posting about it, but it got super late for me, so I had to put it off. I might still post something in the forum just for the record and awareness. —Scott (talk) 10:54, 19 August 2021 (UTC)
Way to Auntie May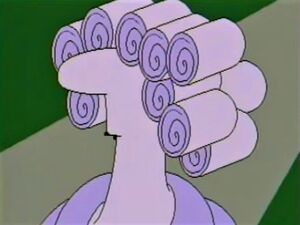 Hey Tony! What's "Way to Auntie May"? Nothing comes up when I search for it in scripts. — Jon

(talk) 16:29, 26 August 2021 (UTC)
It's an ArtistMike animation in Episode 3876, which appears to be on YouTube. What does the script call it? -- Tony (talk) 16:39, 26 August 2021 (UTC)
Yeah, the misspelling on the Fran page was my mistake; elsewhere on YouTube and lists it's "Mae." -- Tony (talk) 17:46, 26 August 2021 (UTC)
Episode 3012 == == Episode 2707
hi there in episode 3012 i Think David Rudman was also one of The Count's Cousins
Thanks for the info. Also, don't forget to sign your posts. -- Tony (talk) 23:48, 11 September 2021 (UTC)
Thanks -- User:Coolsteve29
and also the performers for episode 2708 are Sleeping Beauty: (Camille Bonora) Prince:Kevin Clash Grey Horse:David Rudman? Bessie and Beluah:Rudman and Bonora Farmer Fowler:Kevin Clash User:Coolsteve29 23:48, 13 September 2021
and also in Episode 2564 David Rudman is Mucky in Scene 2 User:Coolsteve29 19:33, September 15 2021
I Think the Doozy Bugs was David Rudman and Martin P. Robinson in Episode 2910 at the end User:Coolsteve29 23:01, September 15 2021
Bus Passenger in Episode 2025
I Know Martin was one of the Bus Passengers in Episode 2025 User:Coolsteve29 23:70 September 11 2021
Jim Martin? He didn't work with the Muppets back then. -- Tony (talk) 00:29, 12 September 2021 (UTC)
EDITED TO ADD: Oh, you meant Martin P. Robinson! My mistake; yeah, he was the mother AM. -- Tony (talk) 00:30, 12 September 2021 (UTC)
Episode 3139
just one thing i Think David Rudman was the Chicken in Scene 1 User:Coolsteve292:47 September 11 2021
You know, you could just put all of these in one thread instead of starting new ones. -- Tony (talk) 03:29, 12 September 2021 (UTC)
Left handed lists
Another performer you can add to your ambidextrous list: Richard Hunt for some random characters, as spotted in a behind the scenes clip of shooting The Muppet Show Episode 312: James Coco. -- 1RichardHunt 01:21, 19 September 2021 (UTC)
Episode 4703 performers
Performers for Episode 4703 are:
Jennifer Barnhart as the Grouch Doctor in Cold Open
Tyler Bunch as Prince Charming
Matt Vogel as the Pineapple
Jennifer Barnhart as Dr. Judy
I Can't tell who was the princess though? --User:Coolsteve298:32 October 6 2021
I Know In Episode 4089 Joey Mazzarino is the Magenta Boy and David Rudman is the Lavender Boy User:Coolsteve2919:57 October 20 2021
Thanks for all the reminders. I'm focusing more on the performers for the late '80s/early '90s for now, but I'll eventually find my way towards them. Feel free to remind me here so I can go back to it whenever I get to the later episodes. -- Tony (talk) 20:01, 20 October 2021 (UTC)
Why can't you make comments on this wiki?
You also can't make Discussion posts or blog posts.
Oscar's nicknames
Hi Tony,
Just wanted to say thank you to you (and others) for taking my idea of recording Oscar's nicknames on the Wiki and absolutley rolling with it! I know it's just a sandbox at the moment, but it's already looking great. Great work! --Samiya (talk) 21:22, 1 November 2021 (UTC)
No prob. Nobody can sling an insult like Oscar, so it's fun to see how creative he can get (and what he can get away with). -- Tony (talk) 21:32, 1 November 2021 (UTC)
Episode 1452
Hi, Tony. I see that you made some recent changes to the Sandbox page about episodes with screenshot upgrades needed and which also have only one segment image remaining to be inserted in order to be considered 'complete.' Just wondering - you wouldn't know anyone who would happen to have a complete version of Episode 1452, would you? It's on YouTube (uploaded by Micah Hurley - sorry, don't know his/her Wiki username, if he/she has one). However, the final street scene is missing. I know - this is not a 'tape trading' site per se, but I'm looking at it from the point of view of having an episode being able to be denoted as 'fully imaged' (and thus 'done'). Thanks in advance. Jon(talk) 08:50, 15 November 2021 (UTC)
I can understand that, but I'm not aware of a full copy in circulation. -- Tony (talk) 14:15, 15 November 2021 (UTC)
OK, Tony, thanks. IIRC, Episode 1452 was one of several from Season 12 which was released on DVD (I think) about 6 years ago, and all (or almost all) of these episodes have made it to YouTube. However, whether this 'bug' with 1452 was originally on the DVD, or was due to the uploading of the episode to the Web, I don't know. Thanks again for responding. Jon(talk) 09:34, 16 November 2021 (UTC)
Closing Signs
Hello,
Just wondering, but what did you mean when you said there was a "BIG backlog" of closing signs? —Drillbit Taylor (talk) 20:13, 2 January 2022 (UTC)
From what I can recall, there were a number of fully-guided episodes that didn't have those, like Episode 0687 recently. I could be mistaken, but that's what I remember. -- Tony (talk) 20:34, 2 January 2022 (UTC)
Episode 0217 through Episode 0220 are other examples. Basically, they're episodes that are missing the not-so-important details, like the signs and who closes out the episodes. Minutiae, sure, but I think they help give a feel of a more-complete episode, especially considering that most people will likely never see those earlier shows. It's just a way to be consistent with the guides, but that's my two cents. Personally, I would if I could. I love reviewing and revising these guides! Plus, there's a bunch of performer info that I can help out with. -- Tony (talk) 20:40, 2 January 2022 (UTC)
Are Fraggles Muppets?
Would you like to weigh in on this conversation about whether the Fraggles should still be considered Muppets? -- Anthony (talk) 06:21, 23 January 2022 (UTC)
Screenshot upgrades for earlier episodes
Hi, Tony:
I see that you 'follow' the Sandbox page for episodes which need just one more image to be considered 'completely imaged,' as well as episodes which require screenshot upgrades. I also see that you left a note asking people who have access to Seasons 18 or later to help with screenshot upgrades for the episodes listed which fall into those seasons (i.e., anything Episode 2226 or later). However, what about the other episodes in that list, all of which are from the first 14 seasons for which, as you know, we have to wait for information from a different source to come in to make progress on those? Is there something special about the screenshots in those episodes which make them 'eligible' for the list on that page? Just curious. Thanks in advance. Jon(talk) 09:29, 5 February 2022 (UTC)
I don't think anybody has access to those earlier episodes yet. -- Tony (talk) 14:17, 5 February 2022 (UTC)
If they need upgrades, they stay. -- Tony (talk) 19:39, 6 February 2022 (UTC)
Also, the reason I called them "season 18+" was just to differentiate the groups. Most of the later ones are in the trading circuit, so it's possible someone out there might have a better copy. -- Tony (talk) 19:41, 6 February 2022 (UTC)

True, Tony. Like many know, the episodes from Season 15 and thereafter are usually much easier to access, or so it seems. Also, it looks like Scarecroe just removed the comment about the page having a 'hopefully short life.' Scott, while we're at it, a question for you - could this page get 'promoted' to become a regular 'non-sandbox' page (like you have done with others)? Just wondering. Thanks. Jon(talk) 20:03, 6 February 2022 (UTC)
Snuffle Up Your Overcoat
Hi, Tony! Re your edit summary question on Episode 2827, I've looked and can't find any other 7 Up references (or video of the episode online). While it *might* work solo if there's a visible logo or something to really compare, if it's just verbal or we're not sure beyond what's on the page, I think your Dr. Pepper idea works better, as by 1990 they merged. I'd include a bullet point under References along the lines of "Another Dr. Pepper product, since 1988, is..." so there's actual text there when it's linked (why I left it unlinked for now). -- Andrew


There's a picture of it, and Snuffy refers to it in dialogue. -- Tony (talk) 21:01, 2 May 2022 (UTC)
Thanks! In that case, it would work as a solo page! -- Andrew 21:07, 2 May 2022 (UTC)
Older episodes
Hi, Tony:
It appears that you are going through older episodes of Sesame Street and making various edits and adjustments as need be, and now you are on Season 4. I hope you don't mind me asking, but as you might know, one of the series from the show - the Gymnast series - made its debut in this season, and I'm just wondering if you read my article User:D72jjpilc/gymnast as to who I think the gymnast from that series might be. If, however, you don't have the time or feel that this is unrelated to what you are currently working on, that that too is fine. Either way, please let me know. Thanks in advance. Jon(talk) 08:32, 15 May 2022 (UTC)
I'm going through the guides mainly to find missing performer info or adding missing clips, should video material be provided in the future. I'm also coming across miscellaneous stuff related to the guides or other articles, so right now the identity of the gymnast is not involved with my research. Thanks for the link, though. -- Tony (talk) 12:28, 15 May 2022 (UTC)
Older Sesame episodes
Hi, Tony (and everybody by extension):
I finally was able to 'dust off' my file of 'counting down' fully imaged episodes of Sesame Street after a while, with two episodes Episode 0401 from Season 4 and Episode 0778 from Season 6 now being fully imaged. As you may know, there is another episode - Episode 0617 from Season 5 - on YouTube now (albeit out of synch) and, in terms of 'personal fulfillment,' consists of two segments I have been wanting to see for years, namely Kermit and Cookie Monster demonstrating 'through' and the gymnast demonstrating 'over' and 'under.' However, because of several people on YouTube voicing concern over 0617 being uploaded (and possible ensuing copyright issues), I hope that our 'trek' to fully image (or at least get more info) on past Sesame Street episodes does not get 'thwarted.' Again, I'm not an admin but I hope that our hopes are not 'dashed' by people doing things like uploading material they shouldn't. If this is just a 'pettiness' or 'jealousy' issue, then that's one thing, but if it's legal, well, of course, that's another. Again, just wanted to share my concerns. Thanks. Jon(talk) 19:17, 17 June 2022 (UTC)
I think we've got the guiding situation under control for now. Expect some more surprises in the future. -- Tony (talk) 11:25, 18 June 2022 (UTC)
Quick update - Episode 0617 as a whole has been taken down from YouTube, but some individual segments, like Kermit and CM demonstrating 'through' and the gymnast demonstrating 'over' and 'under,' remain on the site (which I hope is acceptable). Again, the reason this was a concern for me is that I didn't want some potential violation like that (if it was one) to get in the way of our progress. Thanks! Jon(talk) 22:26, 18 June 2022 (UTC)
Episode 27 - recent edits
Hi, M-Dude: Thanks for you recent clean-up on Episode 0027, the visit from Tony Saletan (first musical guest). As you may recall, I have contributed to this page (among other efforts to assist) by identifying the songs that Tony plays and sings. I noticed that in your latest edits you cut my identification of the banjo instrumental in Scene 4 that Tony plays while Gordon demonstrates the limberjack. What can I do to assist you in confirming that the tune is indeed the traditional banjo number "Cripple Creek"? -- PDGPA (talk) 15:03, 20 June 2022 (UTC)
(talk) 15:07, 20 June 2022 (UTC)
This thread works fine for me. -- Tony (talk) 15:37, 20 June 2022 (UTC)
OK, here you go with several versions. As you will hear, it is the tune that Tony Saletan is playing for Gordon's limberjack demonstration.
Also, I meant to say thanks for the Note at the end, pointing out that Tony Saletan was the first to teach and sing in Spanish on the Street. I had not realized that. May I suggest that "Beginning in season 2, the Spanish culture would become a regular part of the Sesame Street curriculum" be edited to say "... the Latino culture ...."? Not the culture of Spain, but the culture of Spanish-speaking people in the U.S., who generally refer to themselves as Latino, rather than "Spanish." PDGPA (talk) 23:59, 20 June 2022 (UTC)
You're clearly the banjo expert, and these videos convinced me. I'll put it back; nice sleuthing! And correct about the Latino line; that should be changed. Pardon my ignorance. -- Tony (talk) 00:42, 21 June 2022 (UTC)
No apologies needed. My mission here is to ensure full and accurate Sesame-related credit to Tony Saletan, an underappreciated figure in the history of children's television, who will turn 91 in about ten days. (Not a coincidence that he would have been the Street's first outside musical guest. It is a terrible shame that Episode 0027 is not available on YouTube or on any of CTW's releases of the early seasons.) Tony is my uncle; my late mother was his older sister. He taught me basic banjo playing in 1966 or so, and to appreciate the banjo's many and varied practitioners. PDGPA (talk) 02:31, 21 June 2022 (UTC)
'Lost' episodes
Hi, Tony:
It seems like you and I tried to edit the List of Sesame Street episodes simultaneously, changing Episode 0942 and Episode 0943, with you just 'beating me to the punch.' but that's minor!
There's three episodes left to go in Season 1, with two of them being 'lost.' I asked the community about this, but what might be best is if I just add another column to the chart on my site, saying 'Lost episodes,' and that can be adjusted as well if the episode does surface and some point in time. The idea of creating a special 'designation' in the 'basic' list of episodes seems to be unpopular, so I'll try this instead. Please let me know. Thanks. Jon(talk) 21:12, 10 July 2022 (UTC)
Georgie's mother in 1224
Hey, Tony -- neat find with Rollie Krewson performing Georgie's mother in Episode 1224! Just curious, since I don't have access to the episode: is it the same puppet/character as Alice (Anything Muppet)? Or a different puppet? — Jesse (talk) 01:01, 23 July 2022 (UTC)
Same design, different performer. -- Tony (talk) 01:18, 23 July 2022 (UTC)