Talk Archive
Pantone
Dude, Pantone is looking amazing! Terrific work! --GrantHarding (talk) 14:02, 16 August 2021 (UTC)
Thanks! Once I figured out the patterns and codes, I finally got into a rhythm of putting every bit of info I can. There's still some work to do, like with the Muppets Tonight style guide and a few of the Sesame characters, but overall I think it's a big improvement. -- Tony (talk) 14:46, 16 August 2021 (UTC)
Fran Brill fixes
Heya, thanks for taking out the Fran Brill characters that were wrong. I was going purely based on what I found in Special:WhatLinksHere. —Scott

(talk) 21:48, 18 August 2021 (UTC)
No prob, but I do believe that she performed in "Do the Wash" as the younger lavender AM (the same one she plays in "Anybody Can Sing"), using a similar voice to that of the nurse from "The People in Your Neighborhood". Speaking of which, I don't think she was the lifeguard AM from PIYN; the puppetry is noticeably off and not her style. The only one I can think of it could be is Caroly Wilcox, but she's credited for season 7. (Edited to add: I noticed Shane's revision; my bad.) -- Tony (talk) 22:35, 18 August 2021 (UTC)
I spotted another one: the bee in the PIYN about George Washington. -- Tony (talk) 00:10, 19 August 2021 (UTC)
One more thing... the credits for "The Count's Countdown" are incorrect; Brill was the Countess and Julianne Buescher was her Mother. The full video is online for reference, and Brill herself has discussed her performance mishap concerning the Countess's wig for that number (though she mixes the songs up). The album uses the same vocal tracks for both as used on the show. -- Tony (talk) 01:59, 19 August 2021 (UTC)
That's so funny, I dragged my CD out last night after I found an old conversation citing Louise as The Countess on the recording. I scanned the booklet and ripped the disc with the intent of posting about it, but it got super late for me, so I had to put it off. I might still post something in the forum just for the record and awareness. —Scott (talk) 10:54, 19 August 2021 (UTC)
Way to Auntie May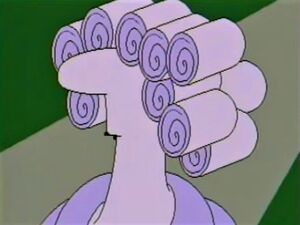 Hey Tony! What's "Way to Auntie May"? Nothing comes up when I search for it in scripts. — Jon

(talk) 16:29, 26 August 2021 (UTC)
It's an ArtistMike animation in Episode 3876, which appears to be on YouTube. What does the script call it? -- Tony (talk) 16:39, 26 August 2021 (UTC)
Yeah, the misspelling on the Fran page was my mistake; elsewhere on YouTube and lists it's "Mae." -- Tony (talk) 17:46, 26 August 2021 (UTC)
Episode 3012 == == Episode 2707
hi there in episode 3012 i Think David Rudman was also one of The Count's Cousins
Thanks for the info. Also, don't forget to sign your posts. -- Tony (talk) 23:48, 11 September 2021 (UTC)
Thanks -- User:Coolsteve29
and also the performers for episode 2708 are Sleeping Beauty: (Camille Bonora) Prince:Kevin Clash Grey Horse:David Rudman? Bessie and Beluah:Rudman and Bonora Farmer Fowler:Kevin Clash User:Coolsteve29 23:48, 13 September 2021
and also in Episode 2564 David Rudman is Mucky in Scene 2 User:Coolsteve29 19:33, September 15 2021
I Think the Doozy Bugs was David Rudman and Martin P. Robinson in Episode 2910 at the end User:Coolsteve29 23:01, September 15 2021
Bus Passenger in Episode 2025
I Know Martin was one of the Bus Passengers in Episode 2025 User:Coolsteve29 23:70 September 11 2021
Jim Martin? He didn't work with the Muppets back then. -- Tony (talk) 00:29, 12 September 2021 (UTC)
EDITED TO ADD: Oh, you meant Martin P. Robinson! My mistake; yeah, he was the mother AM. -- Tony (talk) 00:30, 12 September 2021 (UTC)
Episode 3139
just one thing i Think David Rudman was the Chicken in Scene 1 User:Coolsteve292:47 September 11 2021
You know, you could just put all of these in one thread instead of starting new ones. -- Tony (talk) 03:29, 12 September 2021 (UTC)
Left handed lists
Another performer you can add to your ambidextrous list: Richard Hunt for some random characters, as spotted in a behind the scenes clip of shooting The Muppet Show Episode 312: James Coco. -- 1RichardHunt 01:21, 19 September 2021 (UTC)
Episode 4703 performers
Performers for Episode 4703 are:
Jennifer Barnhart as the Grouch Doctor in Cold Open
Tyler Bunch as Prince Charming
Matt Vogel as the Pineapple
Jennifer Barnhart as Dr. Judy
I Can't tell who was the princess though? --User:Coolsteve298:32 October 6 2021
I Know In Episode 4089 Joey Mazzarino is the Magenta Boy and David Rudman is the Lavender Boy User:Coolsteve2919:57 October 20 2021
Thanks for all the reminders. I'm focusing more on the performers for the late '80s/early '90s for now, but I'll eventually find my way towards them. Feel free to remind me here so I can go back to it whenever I get to the later episodes. -- Tony (talk) 20:01, 20 October 2021 (UTC)
Why can't you make comments on this wiki?
You also can't make Discussion posts or blog posts.
Oscar's nicknames
Hi Tony,
Just wanted to say thank you to you (and others) for taking my idea of recording Oscar's nicknames on the Wiki and absolutley rolling with it! I know it's just a sandbox at the moment, but it's already looking great. Great work! --Samiya (talk) 21:22, 1 November 2021 (UTC)
No prob. Nobody can sling an insult like Oscar, so it's fun to see how creative he can get (and what he can get away with). -- Tony (talk) 21:32, 1 November 2021 (UTC)
Episode 1452
Hi, Tony. I see that you made some recent changes to the Sandbox page about episodes with screenshot upgrades needed and which also have only one segment image remaining to be inserted in order to be considered 'complete.' Just wondering - you wouldn't know anyone who would happen to have a complete version of Episode 1452, would you? It's on YouTube (uploaded by Micah Hurley - sorry, don't know his/her Wiki username, if he/she has one). However, the final street scene is missing. I know - this is not a 'tape trading' site per se, but I'm looking at it from the point of view of having an episode being able to be denoted as 'fully imaged' (and thus 'done'). Thanks in advance. Jon(talk) 08:50, 15 November 2021 (UTC)
I can understand that, but I'm not aware of a full copy in circulation. -- Tony (talk) 14:15, 15 November 2021 (UTC)
OK, Tony, thanks. IIRC, Episode 1452 was one of several from Season 12 which was released on DVD (I think) about 6 years ago, and all (or almost all) of these episodes have made it to YouTube. However, whether this 'bug' with 1452 was originally on the DVD, or was due to the uploading of the episode to the Web, I don't know. Thanks again for responding. Jon(talk) 09:34, 16 November 2021 (UTC)