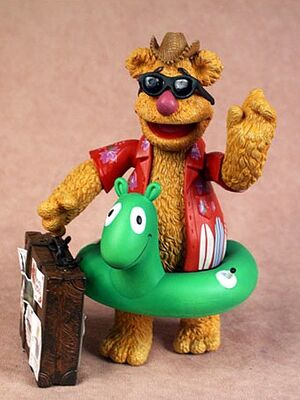 Released: Winter 2002
Articulation: Neck, ball jointed shoulders, biceps, hips
Accessories: Hat, sunglasses, inner tube, suitcase with stickers
The Vacation Fozzie Action Figure was made as an exclusive Fozzie Bear figure by Palisades Toys in honor of The Muppet Show's 25th anniversary. The figure wears a Hawaiian shirt, a magnetic straw hat, and sunglasses that fit on his ears. An inner tube, shaped like a horse-like creature, fits around his waist.
The suitcase can be decorated with eleven stickers of places Fozzie has visited on his vacation. Many stickers contain Muppet references: World Wide Studios, Bogen County Fair and the El Sleezo Cafe from The Muppet Movie; England and the Happiness Hotel from The Great Muppet Caper; and New York City, Pete's Luncheonette, and Maine from The Muppets Take Manhattan. There is also a sticker of Mississippi (where Jim Henson grew up), Camp Wocka Wocka, and Camden Town, where the Creature Shop is located; the sticker features the Creature Shop logo.
Two different Vacation Fozzies were produced. Toyfare Magazine sold a Fozzie with a red shirt and a green tube; Musicland sold a Fozzie with a blue shirt and a yellow tube.
Vacation Fozzie would be followed by a Vacation Pepe Action Figure in the following year.