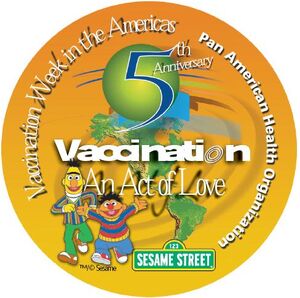 The Pan American Health Organization (PAHO) partnered with Sesame Workshop in 2007 to promote child immunizations throughout the Americas during Vaccination Week in the Americas (April 21-28, 2007).
Vaccination Week in the Americas is an event designed to raise awareness of the importance of immunization and to improve vaccination coverage, particularly in difficult-to-reach populations and areas with historically low coverage. Since 2003, the program has reached over 147 million children and adults.
Sesame Street and Plaza Sésamo characters appeared on flyers, posters, publicity material and "I've Been Vaccinated" stickers to promote the hemisphere-wide effort. Characters featured include Bert, Ernie, Elmo, Grover, Oscar the Grouch, Count von Count, Zoe, Rosita, Abelardo, Pancho Contreras, and Lola. The materials were presented in English, French and Spanish and were featured in the United States, Latin America, the Caribbean and South America during the campaign.
Sesame Workshop's participation in the program was a part of their Healthy Habits for Life initiative.
External links